[ad_1]

Posted on: March 9, 2023, 02:50h. 
Last updated on: March 9, 2023, 03:06h.
A consortium of Latino-owned bars and restaurants is voicing its support for a casino hotel in Times Square, becoming the most recent industry group to do so.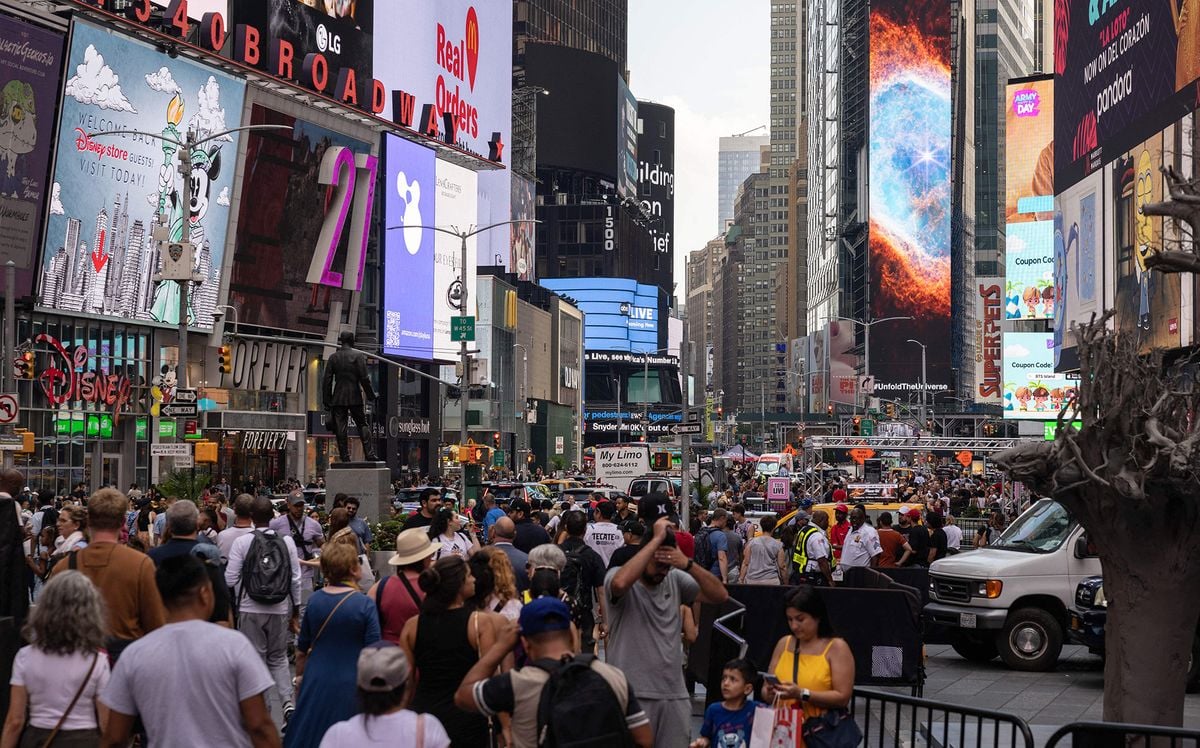 The New York State Latino Restaurant, Bar & Lounge Association (NYSLRBLA) said Thursday it backs plans by Caesars Entertainment and SL Green to bring a new gaming venue to 1515 Broadway in Times Square. Roc Nation, the entertainment agency controlled by rapper Jay-Z, is also part of the group involved with the effort.
Times Square is the right place for New York's next gaming destination, hands down," said Jeff Garcia, president of the NYSLRBLA, in a statement. "It's great not only for the Times Square area, but for the city as a whole. We believe the increased tourism is going to directly benefit small, minority-owned businesses across the five boroughs."
NYSLRBLA is a nonprofit group designed to help Latino business owners in the restaurant and bar industry. The group has over 350 members with venues ranging from fast-food restaurants to high-end establishments. Members own and operate eateries, bars, and lounges in Connecticut, New Jersey, and New York.
NYSLRBLA Support Could Be Critical for Times Square Casino
Last October, Caesars Entertainment announced its partnering with SL Green Realty to bring a gaming venue to Times Square. Roc Nation joined the group soon thereafter.
Over that time, some industry groups criticized the effort while others, including NYSLRBLA, are supportive of the proposed project. One reason that NYSLRBLA's backing of the Times Square casino plan is notable is because some restaurant owners in the neighborhood believe such a venue won't benefit their businesses. They speculate that guests of the casino hotel will be inclined to stay inside, wagering and eating at restaurants in the hotel, meaning they wouldn't venture outside to local small businesses.
Caesars Entertainment and SL Green are attempting to allay those concerns. Last month, the casino operator and the real estate developer announced that if the Times Square casino comes to life, Caesars Rewards members will be able to convert points into gift cards for use at local businesses. They can also earn tier credits at those establishments.
"Economic forecasts indicate that a gaming and entertainment destination would attract over 7 million new visits to Times Square and generate $967 million in annual area spending, providing a much-needed boost to hotels, theaters, restaurants, and businesses; bolstering retail and dining options," according to NYSLRBLA's statement.
Times Square Casino Still a Long Way from Reality
As is the case with the other New York City-area casino proposals, the Times Square plan has its share of detractors and supporters. That's something gaming regulators in the state are likely to take into account, but it may not be the ultimate factor in deciding the winners of the three downstate casino permits.
Competition for those licenses is fierce and it's widely expected that two are already spoken for by MGM's Empire City Casino in Yonkers and Resorts World New York in Queens.
Additionally, operators vying for those permits could be tested by the regulator's timeline for approval. It's expected that decisions will be made late this year, but the possibility exists the process could drag into next year or 2025.
[ad_2]

Source link