[ad_1]

Posted on: July 31, 2023, 09:11h. 
Last updated on: July 31, 2023, 11:01h.
Worsening smoke and unhealthy air quality impacted the Las Vegas Valley this weekend after a large wildfire made its way into Nevada from California.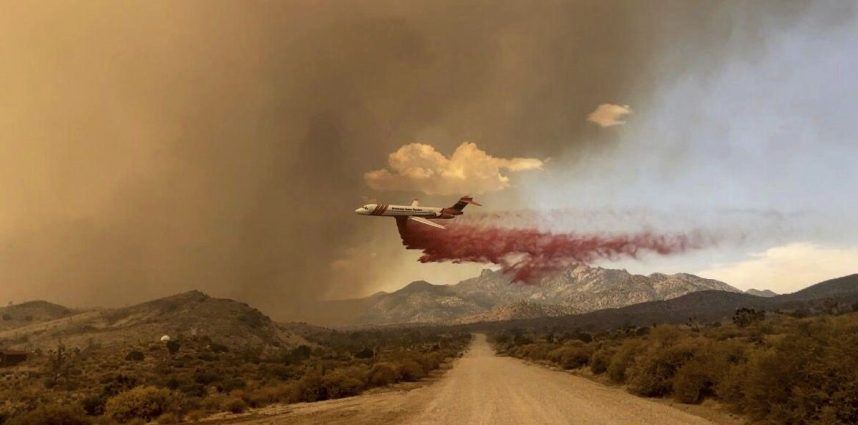 The York Fire was 0% contained as of Sunday. Flames were as high as 20 feet in portions of California.
Clark County Fire Department (CCFD) crews set up a mobile command center at the California border and firefighters are ready to intercede if the fire moves toward Nevada towns like Searchlight, which is about 12 miles from the California border.
Firefighters and specially equipped fire-battling planes will contain and suppress the expanding fire, according to local news reports.
There are no immediate plans to evacuate residents who live in nearby Nevada communities.
"The fire … remains some distance from these areas … and [the Clark County Fire Department (CCFD)] continues to coordinate response and resources with partner agencies," the CCFD tweeted on Sunday.
The worsening air quality and haze could especially impact those with lung and heart conditions.
As of now, the National Weather Service doesn't think flames from the wildfire pose a threat to Las Vegas, the Las Vegas Review-Journal reported. The city is some 45 to 50 miles north of the fire.
Roads Closed
Smoke and flames did impact traffic in Searchlight for part of Sunday. Route 164 was closed in both directions from the Nevada-California border to US 95.
The wildfire originated in Southern California's Mojave National Preserve on Friday. The blaze was first spotted near Caruthers Canyon. It made its way into Nevada at about 3:30 p.m. on Sunday, according to Las Vegas TV station KLAS. As of late Sunday, it had expanded to more than 70,000 acres.
High winds and dry conditions led to its spread.
Fire Whirls
California firefighters have reported seeing "fire whirls,"  also called fire tornadoes, in the wildfire. They are flames and smoke created by extreme heat and winds, according to the Los Angeles Times.
"They have the potential to spread embers over long distances and can start new fires ahead of the main fire front," federal officials told the Times.
Additional fire whirls can change direction suddenly, making them unpredictable and difficult to anticipate."
Predicted ongoing thunderstorms can also lead to "sudden, erratic winds," Ashley Nickerson, a meteorologist with the National Weather Service in Las Vegas, further told the Times.
"That makes it really hard to contain a fire," Nickerson added. Wind gusts are expected to continue to reach 20 to 30 mph.
Frazier Haney, executive director of the Wildlands Conservancy, told the Times on Sunday he is worried about the environmental impact from the wildfire.
"Miles upon miles of invasive grasses are like flash paper in the understory of the Mojave Desert," Haney said. "A wildfire like this one can, in a matter of minutes, wipe out a remarkable diversity of species created by nature over tens of thousands of years."
An update From #ClarkCounty and the @ClarkCountyFD regarding the York Fire burning in the @MojaveNPS and has now moved into Nevada.

See statement attached. pic.twitter.com/Wer45GJejo

— Clark County Nevada (@ClarkCountyNV) July 31, 2023


[ad_2]

Source link