[ad_1]

Posted on: March 7, 2023, 11:26h. 
Last updated on: March 7, 2023, 11:26h.
Three of the top candidates running for the Republican gubernatorial nomination in Kentucky said they would support legalizing sports betting, at least to some extent, during a debate held Tuesday night in Louisville.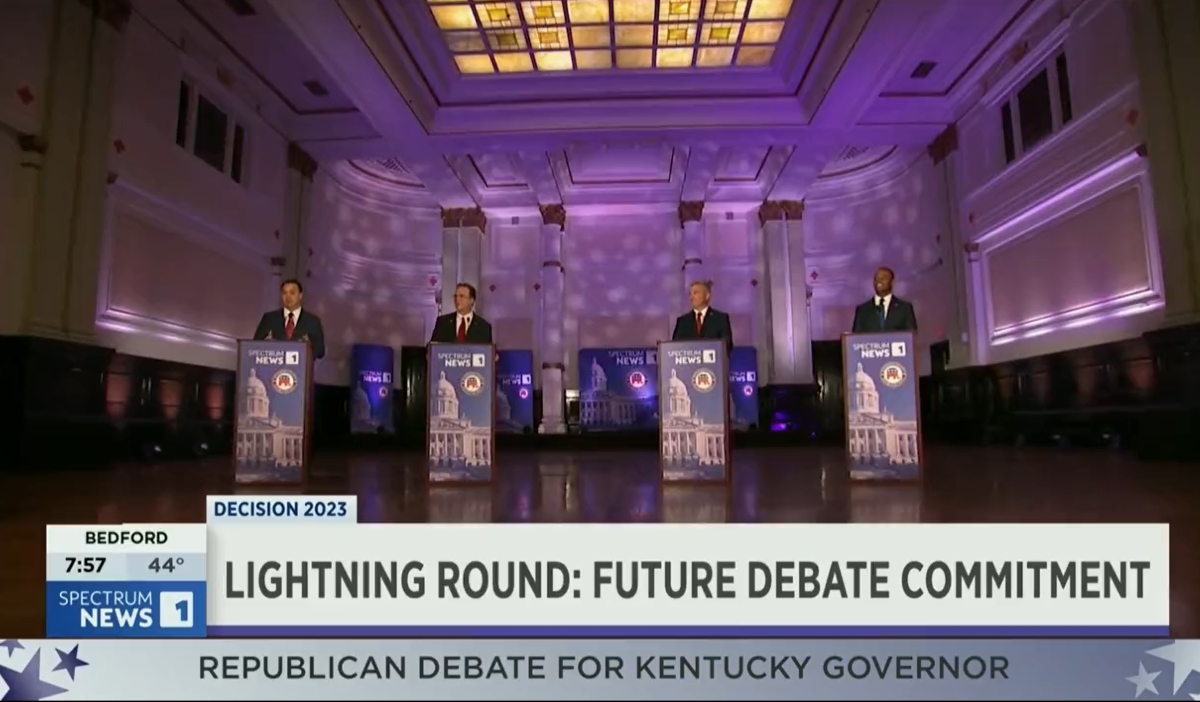 Kentucky Attorney General Daniel Cameron, Agriculture Commissioner Ryan Quarles, and Somerset Mayor Alan Keck all agreed that sports betting is already happening in the state. For Cameron and Quarles, their support was based on the condition they could regulate and control the activity.
Keck, though, was expanded gaming's biggest supporter among the four who participated in the debate the Jefferson County Republican Party sponsored.
To me, it is hypocritical at best, egregious at worst, that we can celebrate the Derby, which I do. And we can fund education through the lottery, which I think is tremendous, and you can't put five bucks on UK-Louisville," Keck said.
Of the four on the dais, only state Auditor Mike Harmon said he's always opposed expanded gaming.
While there are 12 Republican candidates in the primary, those four were among the five invited by Louisville GOP officials. They also invited Kelly Craft, who declined their invitation.
The winner of the May 16 GOP primary will almost certainly face Democratic Gov. Andy Beshear, who faces token opposition for his renomination. Beshear won the governor's race in 2019, in part, based on his support expanding gaming in the state.
Candidates Questioned on Skill Games, Casinos
After the debate, the candidates held scrums with the media in attendance. I used the opportunity to delve a little deeper into each candidate's gaming stances.
For Cameron, he said his office would represent the state if the legislature passed a bill banning gray games, or skill games as they're also known, and that bill was challenged in court.
"I think the work that's been done by our General Assembly is appropriate," he told reporters.
Currently, House Bill 594, sponsored by state Rep. Killian Timoney, R-Nicholasville, has been tabled by the House. However, there appears to be some effort to revive the bill. In addition, House Bill 539, another bill sponsored by Timoney, received a first reading in the House Tuesday evening. That bill could potentially be used to ban the machines as well.
While Keck reiterated his support for the sports betting bill filed by state Rep. Michael Meredith, R-Oakland, he was more reserved about the potential for casinos because he said they can have "a direct societal ill" on Kentucky communities.
"We got to be careful they don't turn into black holes," he said.
He said his main concern with gray or skill games is that he does not want them to be predatory. When someone buys a lottery ticket, he said that person knows the odds of winning. If the machines stick around, then they need to be regulated.
Quarles Questions Cameron on Gray Games
Quarles told reporters he was against casinos, and he was also against the skill games, noting he lives near a convenience store that took out racks that once held soft drinks and food and replaced them with gaming machines. He added the machines were too inviting for teenagers to play.
He also took one of his opponents in the race to task on the issue.
I sometimes wonder why the attorney general has not looked into the legality of these right now, over the past year since it's proliferated," Quarles said. "And now the General Assembly's caught in the quandary because now there's over 10,000 these machines in Kentucky."
Harmon, in theory, could benefit the most from his stance in opposition. Even though there are a dozen candidates, Kentucky election law has no runoff requirement, meaning the top vote-getter gets the nomination no matter how many votes they actually get.
While a survey last year showed a majority of Republican voters in Kentucky support sports betting, the number of no voters was still significant enough that it could influence a primary if the opposition coalesced behind one candidate.
Despite his stance, he added that "ultimately," it will be decided by the people and the legislature. If they support it, they can override his veto with a simple majority.
"If the General Assembly wants it, it can take place," he added.
Hearing Set for Kentucky Sports Betting Bill
While expanded gaming could still become a hot topic in the race for November, lawmakers in the General Assembly are considering legalizing sports betting this year.
On Wednesday morning in Frankfort, the House Licensing, Occupations, and Administrative Regulations Committee is slated to take up Meredith's House Bill 551. If passed, the Kentucky Horse Racing Commission would be empowered to regulate and license sports betting, with the state's nine racetracks able to host retail sportsbooks and partner with up to three online operators.
Meredith told Casino.org on Tuesday that when the committee takes up his bill, they will approve a committee substitute that includes eliminating the in-person mobile registration period that was included in his initial bill. That would have meant anyone who wanted to set up an account with a specific online operator would have needed to visit the track partner to complete the registration. That provision would have ended 12 months after the law took effect.
Should the committee pass HB 551, which is widely expected, it will go to the House floor. It will need a three-fifths majority to pass the House this year, which means it would take 60 yes votes out of the 100 members.
Last year, the House passed a sports betting bill by a 58-30 vote, with a dozen members not voting. That was the first time a sports betting bill got out of the House in four tries. Supporters are confident they can meet the three-fifths majority needed in the House.
From there, the Senate would need to pass the bill, and pass it with 23 votes out of the 37 members. Last year, the Senate was unable to take up the bill before the 60-day session ended in April.
Wednesday will be Day 22 of the 30-day session. Lawmakers are scheduled to meet through the end of this week and Monday through Thursday of next week before breaking for Beshear's veto period.
The final two days of the session will take place March 29-30. Lawmakers can use those days to advance a sports betting bill because – given Beshear's very public support for sports betting – it is incredibly unlikely he'd veto it.
[ad_2]

Source link