[ad_1]

Posted on: March 12, 2023, 08:30h. 
Last updated on: March 12, 2023, 08:40h.
The field for the NCAA Men's Basketball Tournament has been announced. It's time for 68 teams to go dancing during March Madness.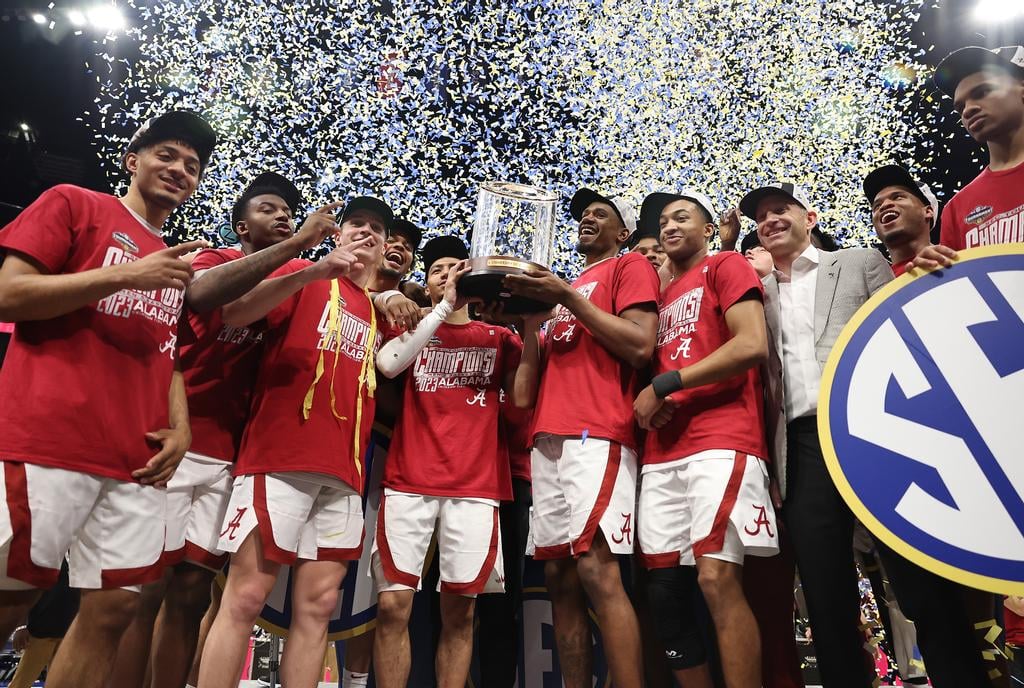 Alabama, Houston, Kansas, and Purdue earned the top seeds in the South, Midwest, East, and West regions, respectively. Not surprisingly, they're also the top teams at both FanDuel and DraftKings as of Sunday evening after the draw was announced.
And while Houston was the No. 2 overall seed behind Alabama, both of the major sports betting operators have the Cougars ahead of the Crimson Tide as the overall favorite. FanDuel offers Houston at +500, and DraftKings has the Cougars at +475 as of Sunday night.
DraftKings had Alabama at +650, and FanDuel listed the SEC champions at +800. The Crimson Tide enter the tournament having won seven of their last eight games, and in Sunday's SEC Tournament championship game, they avenged a loss in the regular-season finale to Texas A&M.
Purdue is +1200 at FanDuel and +1000 at DraftKings. Kansas, meanwhile, is +1000 at FanDuel and +1200 at DraftKings.
Houston Hopes to be Healthy on Thursday
Houston did lose Sunday to Memphis 75-65 in the American Athletic Conference Tournament final. That ended a 13-game winning streak, but the Cougars were without leading scorer Marcus Sasser, who left Saturday's semifinal early after sustaining a leg injury.
Cougars coach Kelvin Sampson told reporters after the AAC final that he didn't see Sasser limping around when the team arrived Sunday morning at Dickies Arena in Fort Worth, Texas. However, he did not "put a high priority" on playing the 6-2 senior guard who averages 17.1 points per game.
I don't think I could have lived with myself had he played today and got hurt," Sampson said.
Houston Chronicle reporter Joseph Duarte tweeted Sunday evening that Sasser said he was certain he would be ready for the team's first-round game on Thursday against Northern Kentucky in Birmingham, AL.
Houston guard Marcus Sasser says he's confident he will be 100 percent for Thursday's NCAA Tournament opener

— Joseph Duarte (@Joseph_Duarte) March 12, 2023
This year's Final Four happens to take place in Houston, which may factor some in the Cougars being the favorite. But Sampson, who has more than 30 years of experience as a college head coach, would have none of that on Sunday.
"No, Northern Kentucky is a hard team to play against," said Sampson, who led UH to the 2021 Final Four. "Why would I even think that? It's just who I am… What's the chances of getting — for anybody, what's the percentage chance that — how many 1 seeds got to the Final Four last year? I don't know, maybe all of them, I have no idea."
Parity Defines College Basketball 2023 Season
I have two words for anyone placing bets or putting a bracket for an office pool.
Good luck.
This season has been a topsy-turvy one, pretty much since it began back in November. The top-ranked team in the Associated Press Top 25 poll changed six times over the 18 polls conducted during the preseason and regular season. That includes North Carolina, the preseason No. 1 that failed to even make the tournament field.
Houston has been in the top five all season, and defending national champion Kansas has been in the top 10 all season. That's about it for consistency, although Purdue, which started the season unranked, debuted in the poll in the second week and has been in the top five since the week after Thanksgiving.
Four different teams have been No. 1 this season. Nine have been ranked No. 2, and six have been No. 3.
Given the parity we've seen this year, this Big Dance may be the one to pick a lower seed to score a couple of upsets over the next three weeks and find themselves in a position to cut the nets down on April 3.
Bluebloods Play Underdog Role This Year
I've got a couple of names in mind — names you surely wouldn't consider as underdogs in the usual sense.
First, there's Duke. The Blue Devils (26-8) made the Final Four last year in coach Mike Krzyzewski's final season, and they came into this season as a top 10 team in the preseason under new coach Jon Scheyer. Injuries led them to fall from the poll in midseason, but they've gotten healthy and won nine straight over the last month. That includes a 59-49 win over Virginia in Saturday's ACC Tournament final.
The Blue Devils received the No. 5 seed in the East Region. FanDuel has them at +3100, while DraftKings offers them at +3000.
The other team also will play in the East Region and is another blueblood in more ways than one.
Kentucky has been up and down for most of the season. Like, Duke, the Wildcats (21-11) were the No. 4 team in the preseason, but by the end of December, they played their way out of the poll. The Wildcats were also wildly inconsistent in the SEC. They managed two wins against Tennesse, but just when people would think John Calipari's team finally figured it out, they'd lay a clunker – like a home loss to South Carolina or one on the road at Georgia.
Twice in 10 days this month, UK lost to a Vanderbilt squad that missed the NCAA Tournament. That includes Friday's SEC Tournament quarterfinals.
So, it's definitely bettor beware on the Cats. They're the No. 6 seed in the East. Yet, just as they can lose to Providence in the first round, they could also put together wins against higher-seeded Kansas State and Marquette to get to the Elite Eight. And Big Blue Nation travels well, meaning any neutral site game could have a home-court feel for UK.
DraftKings had Kentucky at +4500 as of Sunday night, while FanDuel gave them odds of +3100.
Aside from that, the only other advice I can offer is use a dartboard to make picks. That might work as well as trying to handicap March Madness this year.


[ad_2]

Source link