[ad_1]

Posted on: March 12, 2023, 07:46h. 
Last updated on: March 12, 2023, 07:53h.
After David Blaine injured himself while performing on Saturday night at Resorts World in Las Vegas, the magician sought treatment for his dislocated right shoulder. However, where most performers would have done so backstage in private, Blaine made his painful predicament part of the act.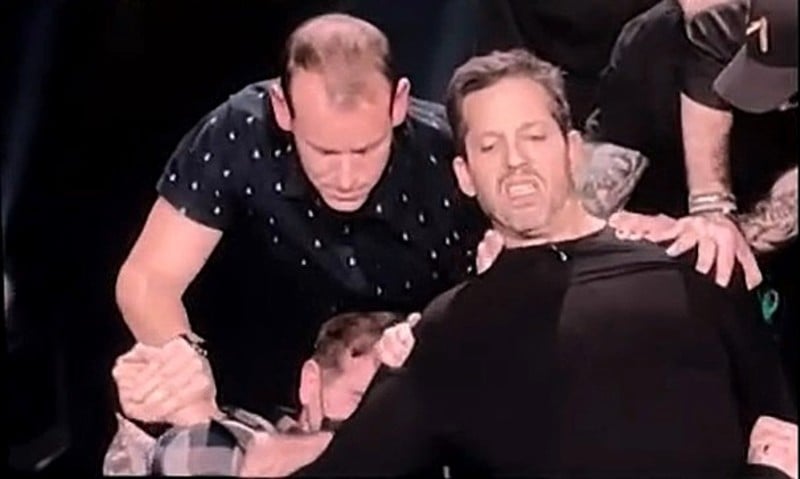 "Looks as though the shoulder came out," Blaine said after missing his mark while dropping 80 feet from scaffolding into a bed of cardboard boxes. It was his opening trick.
"You feel it?" Blaine asked a stagehand while his microphone was still broadcasting. "I think we can pop this back in. I think it has to go up, though."
Is There a Doctor in the House?
After his own crew failed to pop his right shoulder back into place, Blaine called on any doctors in the audience to come forward. According to TMZ, several did, taking turns until one finally succeeded.
"Wow that hurt!" Blaine posted on his Instagram page.
Blaine traditionally lets audiences in on his injuries, since they underscore the danger, and lack of illusion, in many of his set pieces. They also present teachable moments, as he told People magazine last year, representing "the idea that we can push past what we believe is possible."
On December 17 at Resorts World, Blaine accidentally stabbed his left palm with an ice pick concealed beneath a Styrofoam cup while on stage — a trick he said he performed a thousand times before that without injury. (When it goes as planned, Blaine uses two members of the audience to figure out which of the three cups has the ice pick. Then, he places both hands over the other two cups and smashes them together.)
Blaine took a smaller pause later in Saturday's show, according to TMZ, but soldiered through that one, too. And, in the end, the audience seems to have appreciated getting to see something more unique than a perfectly orchestrated night of his "In Spades" residency.
"Your show was so chaotic and insane!" commented Instagram user darcyhart77. "My daughters and I loved it!"
Added Instagram user misspreciousasmr: "Whilst it's hard to see you hurt yourself during these stunts, it speaks volumes about your character that you pushed through and completed the show! A lot of respect goes out to you! Wishing you a speedy recovery ❤️❤️❤️"
[ad_2]

Source link