[ad_1]

Posted on: March 31, 2023, 08:37h. 
Last updated on: March 31, 2023, 08:47h.
Georgia sports betting efforts are officially dead for 2023 after the General Assembly adjourned late Wednesday night.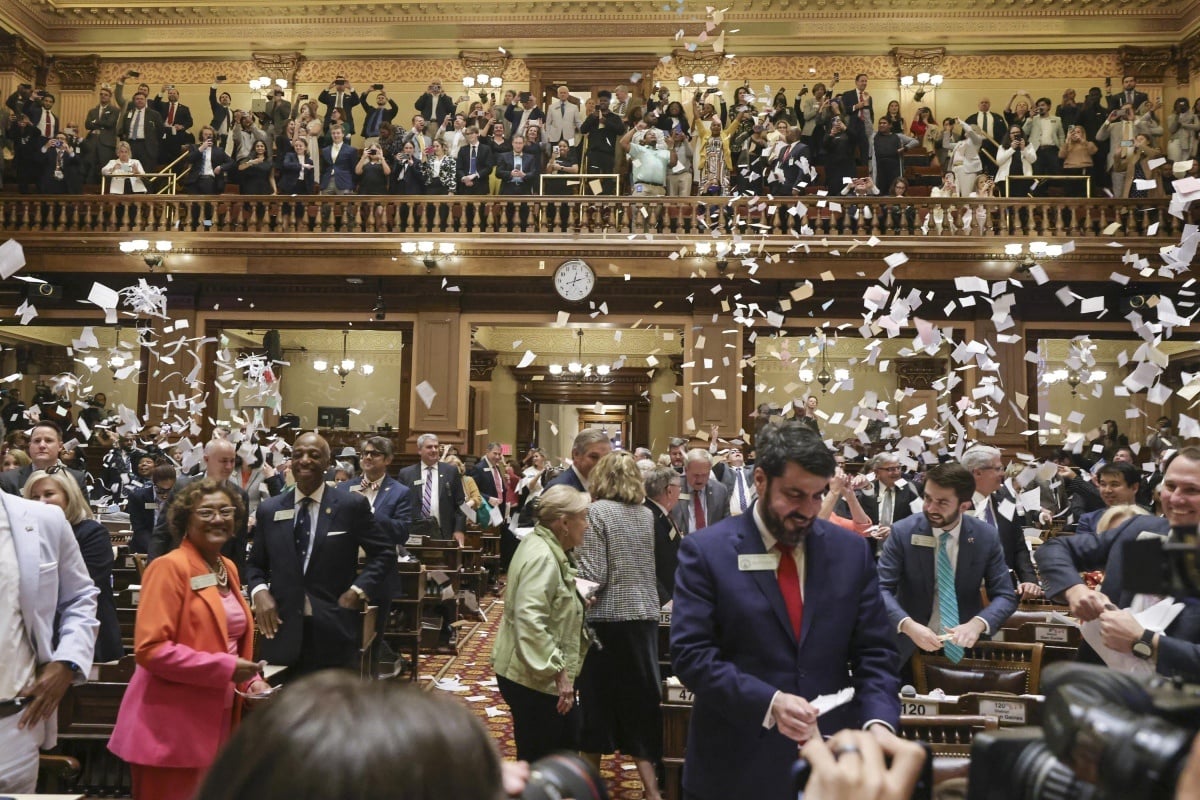 Despite a flurry of bills introduced to expand gaming in the Peach State, and recent polling suggesting there's adequate public support to authorize gambling on sports, the Georgia General Assembly opted not to act.
Five pieces of legislation to legalize sports betting or study the merits of doing so were introduced in the Atlanta capital during the legislature's 2023 session.
The statutes sought to expand gambling through an array of legislative paths, as lawmakers remain unsure as to whether the General Assembly possesses the authority to singlehandedly expand gambling. Some elected officials say voters must approve of any motion to allow new forms of gambling, while others contend that the legislature can adopt sports betting as a lottery game and therefore it does not need ballot approval.
In January, as the Georgia General Assembly convened, the odds appeared better than ever that sports betting would at least find legislative favor. But the divisive issue resulted in deadlock once again.
Rallying Support Difficult
Georgia has been led by the GOP for many years. Republicans have controlled the state Senate since 2002 and the House of Representatives since 2004.
Conservatives in the Peach State have historically been more opposed to efforts to expand gambling. Georgia remains one of the more restrictive gaming states, as the only permissible forms of gambling are the state-run lottery and certain forms of charitable gaming like bingo and raffles.
The Georgia Lottery was authorized through a 1992 ballot referendum passed by voters that amended the state constitution. Georgia lawmakers in 2021 passed a gaming expansion bill, but it applied only to charitable gaming and embracing bingo as a permissible game, which also includes raffles, punchboards, and pull tabs.
A poll released last October by the University of Georgia found that nearly six in 10 Georgians support further expanding gaming to include commercial formats, whether it be casinos or sports betting. A separate poll from the Atlanta Journal-Constitution found that more voters support sports betting than oppose it.
But in the State Capitol, lawmakers couldn't come to a consensus on sports betting. The matter isn't partisan per se, but the avenue to allowing legal sportsbooks resulted in differing opinions.
Legislative Consensus Needed
Former Georgia Supreme Court Chief Justice Harold Melton wrote an opinion in January that sports betting doesn't require a constitutional amendment. But some lawmakers believe it does.
Senate Resolution 140 sought to initiate a ballot referendum this fall, but the legislation, which needed two-thirds majority support in each chamber to reach voters, failed by eight votes. SR 140 received a 30-26 vote in the 56-member Senate.
I don't get why it's wrong to let the people vote on this issue," said SR 140 sponsor Sen. Bill Cowsert (R-Athens). "We're not all petty dictators up here."
An easier path to sports betting in Georgia would be for the Assembly to deem sports gambling as a lottery game and allow the Georgia Lottery to regulate online sportsbooks. A traditional legislative process would require only simple majority support in the Senate and House.
After lawmakers rejected bills to legalize sports gambling in a traditional legislative manner, another resolution — Senate Resolution 394 — was introduced to initiate a sports betting study committee. The 10-person, bipartisan committee would have presented the state with its recommendations on whether legal sports betting is in the state's best interest and how lawmakers should go about legalizing the activity in 2024.  SR 394 also failed to progress before the Assembly's adjournment.
[ad_2]

Source link