[ad_1]

Posted on: July 14, 2023, 07:25h. 
Last updated on: July 14, 2023, 10:14h.
New details about the future of gambling in the Philippines are coming to light through the Global Gaming Expo (G2E) Asia summit in Macau. The Philippine Amusement and Gaming Corp. (PAGCOR), the country's gaming regulator and casino operator, plans on making significant changes to the online landscape.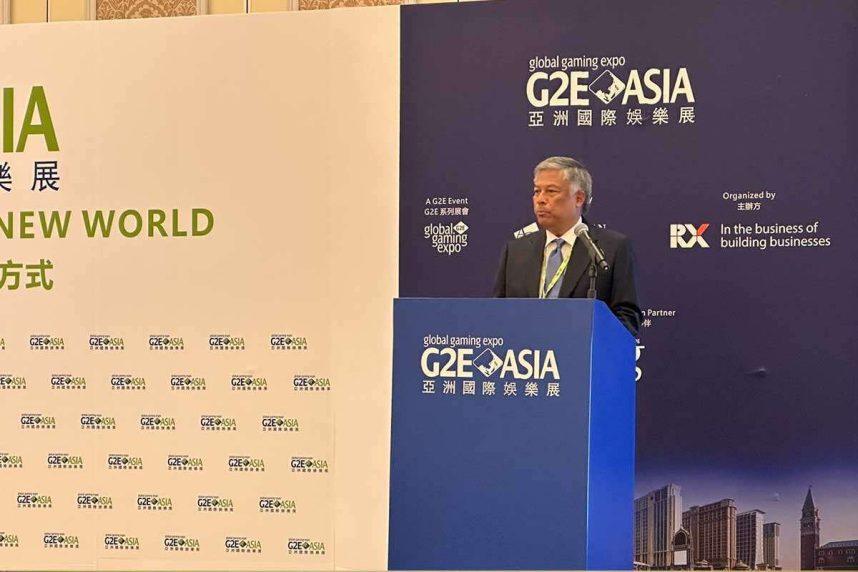 During the G2E conference this week, PAGCOR Chairman and CEO Alejandro Tengco gave a keynote speech on Asian gaming. If his plans are fulfilled, the gaming ecosystem will see a spectacular shift in operations.
Notably, Tengco sees a time when online poker and slots can flourish in the country. To make this happen, the Philippine Offshore Gaming Operator (POGO) segment is being put on notice.
 Online Gaming Takes Center Stage
PAGCOR needs to have greater regulatory responsibilities, according to Tengco. This isn't just an attempt to stem the flow of illegal activity currently associated with the industry. It's also necessary to ensure that the Philippines can become a "prime gaming destination" in the Association of Southeast Asian Nations (ASEAN) union.
Expanding on that intensified regulatory oversight, Tengco sees an opportunity to introduce guidance for online poker and slots. He pointed out that the regulator has already updated a number of policies to improve the online segment, and that these two areas could be next.
For this year and beyond, PAGCOR intends to bring regulatory frameworks for online poker operations, enhance slot machine operations, upgrade gaming equipment and create and upgrade [existing] regulatory frameworks," said Tengco.
In order to achieve his goals, Tengco has made it clear that the current stigma enveloping the POGO segment has to go. There have been recent reports of operators actively leading human trafficking and fraud schemes, with Philippine police recovering thousands of trafficked victims over the past few months.
That has led to calls that the Philippines should cancel the entire online gambling segment. However, Tengco wants to avoid this. He points out that the gross gaming revenue (GGR) of the sector was PHP11 billion (US$202 million) in 2022, and could reach PHP24 billion (US$441 million) this year.
Instead, he has put all licensed POGOs on probation, effective immediately. In real terms, this means that all POGOs must apply for a new license.
The licensing scheme will be part of a revised regulatory framework PAGCOR plans to introduce in the near future. Any entity that doesn't apply or that fails to receive a new license will be deemed an illegal gaming operator.
PAGCOR Ready to Exit Casino Market
PAGCOR has been under pressure lately from lawmakers, who assert that it hasn't been an effective regulator and that it's mostly to blame for the recent POGO scandals.
As a result, there's been a renewed push for the government-led entity to give up its gaming operations to focus on regulations. In the past, PAGCOR has resisted the suggestion. But Tengco is apparently ready to make changes.
He said during G2E that he will potentially back the sale of PAGCOR's casino operations. This would allow it to focus all its energy on improving regulations and gaming oversight. It could also potentially help the Philippines attract investment money as its reputation improves.
For a sale to take place, deep pockets are going to be necessary. Tengco previously said that PAGCOR would want at least PHP80 billion (US$1.47 billion) for its public-sector casinos. After the first quarter of 2023 delivered an 80% year-on-year increase in GGR of PHP59.26 billion (US$1.08 billion) to PAGCOR, it could ask for more.
[ad_2]

Source link