[ad_1]

Posted on: March 7, 2023, 11:51h. 
Last updated on: March 7, 2023, 11:51h.
There are conflicting reports coming out of Nashville that the Tennessee Titans are looking to trade running back Derrick Henry.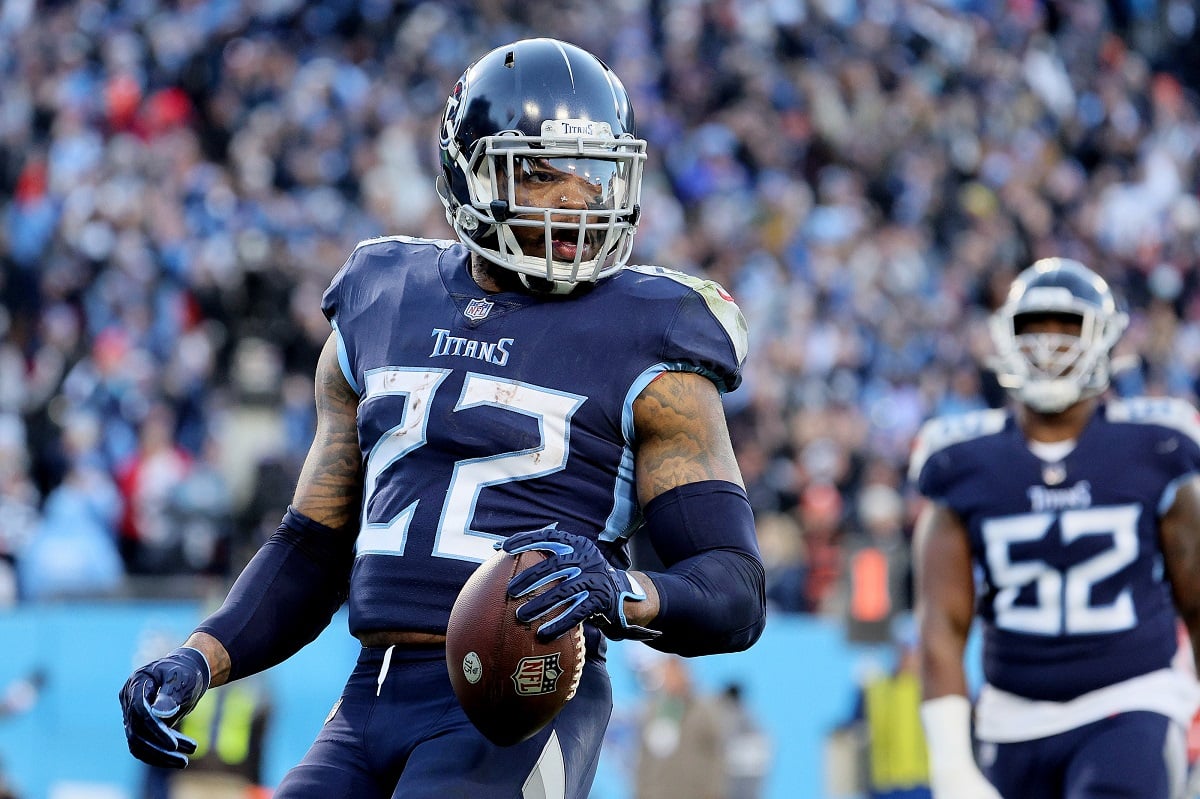 The Titans shopped Henry during the recent NFL Combine, according to a report from Bally Sports. Yet, the Titans' front office officials denied the report.
If the Titans are going to trade their star running back and three-time Pro Bowler, then the Baltimore Ravens, Buffalo Bills, Carolina Panthers, Detroit Lions, and the Miami Dolphins are leading contenders to add Henry.
The Titans made several controversial moves this offseason that indicate they're rebuilding the entire roster after a disappointing 7-10 season. Moving Henry in a trade will be an integral part of their rebuild because they can shed salary and acquire multiple draft picks in return.
The Unstoppable D-Henry
The only thing that has slowed down Henry is recent years has been injuries. When he's healthy, Henry is one of the premier running backs in the NFL. He's a throwback to an era when teams and offenses emphasized a rushing attack.
Henry appeared in 16 games last season, and led the NFL with 349 rushing attempts. He was the league's second-best rusher with 1,538 yards. He scored 13 rushing touchdowns, which was ranked #2 overall. Although Henry did not score any touchdown receptions, he caught 33 passes for 398 yards with an impressive 12.1 yards per catch.
In 102 career games with the Titans, Henry rushed 1,750 times for 8,335 yards. He averaged 4.8 yards per carry. He scored 78 rushing touchdowns and caught three touchdown passes. He also tossed two touchdowns on trick plays, and had an 83.3% completion percentage as a passer.
The Titans selected Henry in the second round of the 2016 NFL Draft. The Alabama star won the 2015 Heisman Trophy, and led them to a championship during his junior season.
Henry has a lot of mileage, and running backs with a heavy usage quickly drop off the shelf when they reach 30-years old. Henry recently turned 29-years old. He's a seven-year NFL veteran, who appeared in 39 games for Alabama with 602 rushing attempts.
The Titans would be wise to trade Henry while he's still at the top of his game. Henry led the NFL in rushes in three out of the last four seasons. He only appeared in eight games in 2021 before he fractured his foot, but was on pace to lead the league in attempts and yards that season.
Bookies Have Little Faith in the Titans
After posting six consecutive winning seasons, including four in a row under head coach Mike Vrabel, the Titans went 7-10 last season and missed the playoffs.
The Titans got hot in the 2019 NFL playoffs and secured a trip to the AFC Championship game. They lost to the Kansas City Chiefs in the AFC title game, but the Titans established themselves as a legit contender in ensuing seasons.
The Titans won the AFC South in back-to-back seasons with an 11-5 record in 2020, and a 12-5 record in 2021. However, this last season was a setback and disappointment. The Jacksonville Jaguars made a late run to win the AFC South title, and the Titans finished in second place in the division.
The Jaguars are -140 odds to win the AFC South once again, and the Titans are +300 odds.
The Titans are +8000 odds to win Super Bowl LVIII. They're among the bottom five teams on DraftKings' NFL futures board.
The Titans are +5000 odds to win the AFC Championship. They're at the bottom of the board with other long shots like the Indianapolis Colts (+6000) and Houston Texans (+10000).
Titans Shedding Cap Space… for Aaron Rodgers?
New general manager Ran Carthon has been cleaning house. The cash-scrapped Titans are slashing and burning their roster in order to clear salary cap space.
The Titans recently saved $40 million by releasing multiple veterans. Cutting kicker Randy Bullock saved them $2 million. They parted ways with wide receiver Robert Woods to save another $12 million. In a surprise move, the Titans cut All-Pro offensive tackle Taylor Lewan, which freed up $15 million in cap space.
Henry has a $16.4 million cap hit next season, but they can save over $6 million if they trade him.
There's never any shortage of rumors flowing in Nashville, but there's been hints that the Titans are cutting veterans with big contracts to make room for quarterback Aaron Rodgers.
The Titans could be ready to move on from quarterback Ryan Tannehill, who was banged-up last season with multiple ankle injuries and opted for season-ending surgery. Rookie quarterback Malik Willis struggled under center when he replaced Tannehill, and the Titans were 1-2 during his three starts.
If Rodgers wants out of cheeseland, the Green Bay Packers will accommodate a trade for their disgruntled quarterback. However, the Packers will not deal him to any teams in the NFC.
Multiple AFC teams are in play to land Rodgers with the New York Jets and Las Vegas Raiders leading the way. The Titans want to have the financial flexibility to outbid the Jets and Raiders, which is one of the reasons why they are taking calls to trade Henry.
[ad_2]

Source link