[ad_1]

Posted on: March 20, 2023, 08:47h. 
Last updated on: March 20, 2023, 09:24h.
Sixteen teams remain in the 2023 March Madness men's college basketball tournament after one of the wildest opening rounds in the last 20 years. In the most recent update by DraftKings, Alabama is the betting favorite to win the national championship at +350 odds. Houston is right behind at +360 odds when the Sweet 16 resumes later this week.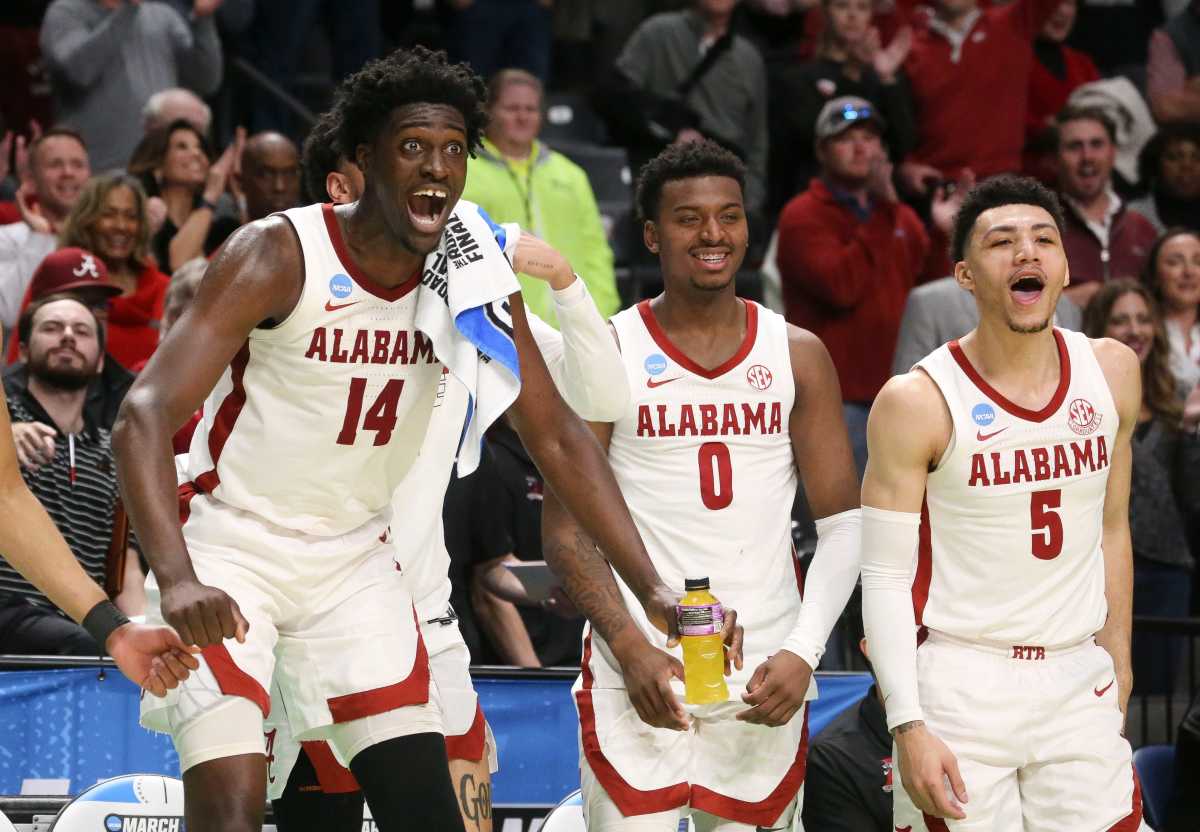 Alabama and Houston are the only remaining #1 seeds among the Sweet 16. Purdue was picked off by #16 seed Fairleigh Dickenson in the opening round. With the bracket-busting victory, FDU pulled off the greatest single upset in March Madness history.
Kansas entered the tournament as the defending champion and earned the #1 seed in the West regional. They were eliminated by #8 Arkansas in the second round.
| | | |
| --- | --- | --- |
| Sweet 16 Team | Odds Today | 3/13/23 Odds |
| Alabama | +350 | +800 |
| Houston | +360 | +550 |
| UCLA | +900 | +900 |
| UConn | +900 | +1600 |
| Texas | +1000 | +2000 |
| Creighton | +1000 | +3500 |
| Gonzaga | +1100 | +2000 |
| Tennessee | +1100 | +3000 |
| Michigan St | +3000 | +9000 |
| Arkansas | +3000 | +20000 |
| Kansas State | +3500 | +3500 |
| Xavier | +3500 | +5000 |
| San Diego State | +3500 | +6000 |
| Miami (FL) | +4500 | +4000 |
| Florida Atlantic | +4500 | +20000 |
| Princeton | +18000 | +100000 |
With the #15 seed, Princeton became only the third team from the Ivy League to advance to the Sweet 16. For the third consecutive tournament, a #15 seed upset a #2 seed in the opening round. Princeton is the long shot on the board at +18000 odds to win March Madness.
Alabama Crimson Tide +350
Alabama entered the tournament with a 29-5 record and was ranked #1 in the country according to the final AP poll of the regular season. In the last game of the regular season in early March, Alabama lost to Texas A&M. They haven't lost since then. They bounced back with three victories in three days to win the SEC conference tournament. Alabama defeated Texas A&M in the SEC championship game with a 19-point revenge win.
When March Madness began, Alabama didn't break much of a sweat in a 21-point win over #16 Texas A&M-Corpus Christi in the opening round. They failed to cover the point spread at -24.5 with most of their starters getting significant rest in the second half. Freshman forward Brandon Miller, Bama's leading scorer this season averaging 19.1 points per game, was held scoreless in only 19 minutes of action.
In the second round, Alabama coasted to another easy victory with a 22-point win against #8 Maryland. Senior guard Jahvon Quinerly led all scorers with 22 points and Miller bounced back with 19 points.
Alabama plays #5 San Diego State on Friday in the Sweet 16, and they were installed as a -7.5 favorite.
When March Madness began, Alabama was second on the futures board at +550 odds to win the championship. After the first round, their odds improved to +450. Heading into the Sweet 16, Alabama took over the top spot on the board at +350.
Houston Cougars +360
The biggest concern for Houston is injuries. Senior guard Marcus Sasser sustained a groin injury in the AAC conference tournament. Head coach Kelvin Sampson gambled by starting Sasser against #16 Northern Kentucky in the first round. Sasser scored five points in 14 minutes but sat out the entire second half with groin tightness. Northern Kentucky put up a decent fight and Houston only won by nine points. They failed to cover the point spread as a -19.5 favorite.
In the second round, Houston defeated #8 Auburn by 17 points even though they trailed by 10 points at halftime. Houston outscored Auburn 50-23 in the second half to advance to the Sweet 16. Sasser scored 22 points in 31 minutes, including five 3-pointers.
Sasser will get six days of rest before their next game against #5 Miami in the Sweet 16 on Friday. Houston is a -7 favorite even though they've only covered the spread twice in their last eight games.
Houston began March Madness as the consensus favorite to win the tournament at +550 odds. They retained the top spot on the board at +450 odds after their opening-round win. Houston is currently +360 odds to win March Madness with Alabama holding a slight edge at +350 with 16 teams remaining.
UCLA Bruins +900
UCLA entered March Madness shorthanded after junior guard Jaylen Clark blew out his Achilles. Clark was the team's third-best scorer (13.1 ppg) and best defensive player. Even without Clark, UCLA was still +900 odds to win March Madness as the third-highest team on the board.
UCLA caught a bit of luck when senior guard David Singleton didn't fracture his ankle in a second-round victory against #7 Northwestern on Saturday. Singleton just suffered a sprain and is listed as day-to-day on the injury report.
David didn't break his ankle, which I was worried that he did," said UCLA had coach Mick Cronin after the game.
Singleton started 15 games this season and averaged a career-high 9.1 points per game while shooting 42.5% from 3-point range.
UCLA had a magical run two seasons ago when they became the first play-in team to advance to the Final Four. With the #11 seed, UCLA secured a spot in the 2021 Final Four. They missed a chance to reach the championship game when Gonzaga held off the Bruins in overtime in the semifinals. It took two years, but UCLA has a chance to enact revenge against Gonzaga.
On Thursday, UCLA, who is only a -1 favorite, battles #3 Gonzaga in the Sweet 16. When the season ended, Gonzaga was ranked #9 and UCLA was #7 in the final AP poll.
This Sweet 16 matchup will feature a pair of seniors with Gonzaga forward Drew Timme (21.1 points, 7.3 rebounds) versus UCLA swingman Jamie Jaquez, Jr. (17.5 points, 8.1 rebounds). The two seniors and respective leading scorers of their teams were sophomores when Gonzaga defeated UCLA in the 2021 Final Four.
UCLA enters the Sweet 16 at +900 odds to win the championship. Only Alabama and Houston have better odds to win March Madness than UCLA.
[ad_2]

Source link