[ad_1]

Posted on: March 14, 2023, 11:42h. 
Last updated on: March 14, 2023, 12:53h.
If you haven't been paying attention to college basketball this season, or you're filling out a March Madness bracket for the first time, then we have some general tips and advice if you're participating in a betting pool for the 2023 NCAA men's college basketball tournament.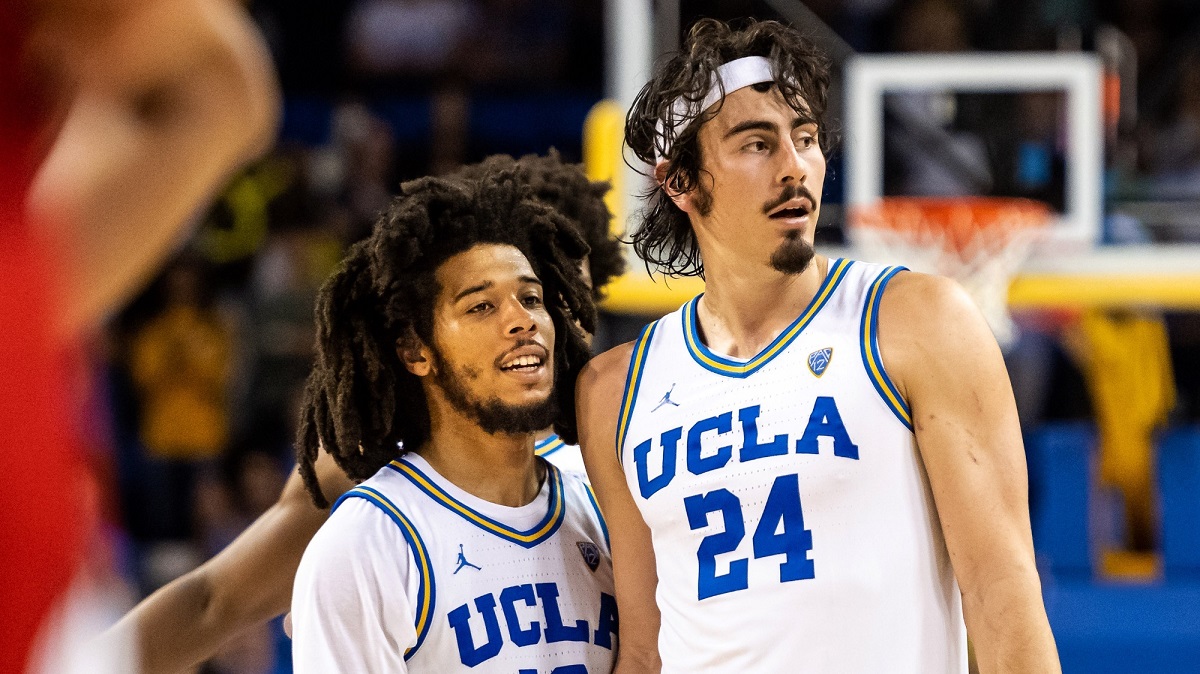 First of all, the 2022-23 season has been absolutely bonkers. There are some good teams, but not a dominant team like in past years. Only two teams on DraftKings' college basketball betting board have odds that are less than 10-to-1.
The Houston Cougars (31-3), one of the four #1 seeds, are the consensus favorite to win the 2023 March Madness championship at +450 odds. Alabama (29-5) also earned a #1 seed, and the Crimson Tide is +650 odds to win the championship.
Purdue (29-5) is another #1 seed, but only +1000 odds to win the title. UCLA (29-5) is also +1000 odds, but they're a #2 seed despite being the second-overall ranked team by Ken Pomeroy.
Kansas (27-7) is the fourth #1 seed. The Jayhawks won the championship last year and they're +1200 odds to win March Madness in back-to-back years.
In the modern era, it's rare to win consecutive college basketball championships. Florida is the last team to pull off the feat with victories in 2006 and 2007. Aside from that, you have to flash back to Duke's back-to-back championships in 1991 and 1992. UCLA dominated the college basketball landscape more than 50 years ago when they won seven titles in a row between 1967 and 1973 under legendary head coach John Wooden.
Have Fun
March Madness pools are fun because anyone can win. These betting pools are social affairs, so everyone can collectively join in on the fun for a relatively low price point. Keep an eye out for freerolls and promotions this week. BetMGM is offering $10 million to anyone with a perfect bracket.
These days, March Madness has become a spectacle that's not just a one-night affair like the Super Bowl. March Madness is spread out over three weeks, so you have a prolonged sweat while watching the tournament play out.
Everyone has busy and hectic lives with family and work, but at least there are a couple of weeks every March when you can reconnect with old classmates, gather to watch games with family, or have a special chat thread where you can trash talk and banter with friends. Pools are also a great bonding activity for your co-workers.
In 2016, my friend's six-year-old daughter won our pool because she loves animals and made her March Madness picks based on animal mascots. She had an affinity for cat teams and got the last laugh when Villanova won the championship that year.
My Aunt Henrietta is a devout Catholic, and she always picks Catholic colleges and universities. Aunt Henrietta won our pool in 2018 when Villanova was victorious in the championship game, but she also picked Loyola Chicago to advance to the Final Four. That was the year when Loyola Chicago went on a Cinderella run as the #11 seed thanks to their good luck charm and super fan, Sister Jean, a 98-year-old nun and the team's former chaplain.
Work Backwards
Pick your champion first, and then determine the two teams in the championship game before you figure out which teams are going to the Final Four. If you enter multiple sheets, try to vary different winners and Final Four teams.
Next up is the Elite 8, and those final eight teams can make or break your bracket. If you're in a large-sized pool, you should aim for a perfect eight-for-eight in correctly picking the Elite 8 teams.
Keep moving backwards and pick the Sweet 16 teams next. Your goal is to correctly guess at least a dozen teams. If you can get 14 or more, then you'll probably be near the top of the leaderboard in your pool.
The Sweet 16 is your best chance to incorporate a potential Cinderella story. But beware, the Sweet 16 is the round when those lower-seeded upsets go to die. It's not improbable for a double-digit seed to pull off an upset in the Round of 64, but it's difficult to win a second upset in the Round of 32 within a three-day span.
Pool Size Matters
Before you enter a pool, find out the estimated size. If you're in a massive pool with 1,000 or more entries, then consider entering multiple brackets to increase your chances of winning. You could correctly pick the right school to win the tournament, but so will a lot of other entries, which means you'll have to correctly guess all four Final Four teams.
In gigantic pools, that innocuous first-round upset could mean the difference between winning or missing the money. You'll have to make a couple of risky picks and accurately guess which #12 seed or higher will win a game or two.
If you're in a small pool that's less than 25 entrants, then you can remain conservative with your picks, and attempt to win the pool with a single entry.
Know Your Enemy
Make sure you know who's hosting the pool, and try to figure out who else is playing. Once you can determine everyone's allegiances, then you can pick accordingly.
If you're participating in an office pool based out of Chicago that has a lot of Northwestern grads, then you can anticipate an uptick in entries this year where Northwestern goes deep. Even though UCLA had the #11 seed in 2021, a lot of friends from Los Angeles in my pool picked the Bruins to make it to the Final Four that year.
My pool tends to have a lot of Kentucky fans and graduates, and many friends from Seattle have a regional allegiance to Gonzaga. I know going into Mach Madness every year that there'll be a strong segment of sheets with Kentucky and Gonzaga as the champion.
If I decide if I want to pick either school, then I'll have to expect I won't be the only person who backed that team. I'll have to make sure the rest of my entry is tight with a perfect Final Four and potentially all eight Elite 8 teams.
Don't Fall in Love with Cinderella
It's fun to root for an underdog, and as a bettor, you can boost your bankroll by backing the right Cinderella team to make a deep run. However, one of the best tips I ever got in March Madness is to not fall in love win Cinderella and expect them to win the championship or go beyond the Elite 8.
Cinderella teams like George Mason in 2009, VCU in 2011, and Loyola Chicago in 2018 busted a lot of brackets in the years they got hot. All three teams advanced to the Final Four, but then ran out of gas and none of them made it to the championship game.
As much as the media loves to push the narrative of a Cinderella team, they don't happen every year. And when they do appear, you'll have to make the right call on when it's officially Midnight and their dream run is over.
Chalk and the #1 Seeds
Chalk is the betting term for picking the favorite. If you don't follow college basketball, it's easy to rely on the seeding to make a decision in your bracket by picking the team with the better seed.
In the years when there are a lot of upsets, picking a lot of chalk will be your downfall. In a year when the favorites prevail, the chalk-heavy sheets will rise to the top.
You want to avoid picking all #1 seeds as your Final Four teams. It's wise to have one or two, but make sure you include a #2 or #3 seed, and then you can take a flier on a lower seed.
Since 1982, a #1 seed won March Madness 26 times. Since 2000, a #1 seed won the championship 16 times. A #1 seed won the championship five years in a row.
The 1985 Villanova team is the only #8 seed to win March Madness, and they're the lowest seed to win the championship.
Picking a pair of #1 seeds to appear in the championship game isn't a common outcome. The championship game featured two #1 seeds on only nine occasions since 1979. However, it happened three times in the last seven tournaments, including in 2015, 2017, and 2021.
Picking an Upset: #12 vs. #5
At this point, it's common knowledge and one of the most popular March Madness tips that a #12 seed will end up upsetting a #5 seed. Since the March Madness field expanded to 64 teams in 1985, the #12 seeds are 53-95 overall, and have roughly a 36% success rate.
Since 2000, a #12 seed didn't win a single game only four times (in 2000, 2007, 2015, and 2018). This year's #12 seeds are Oral Roberts (30-4), VCU (27-7), Drake (27-7), and Charleston (31-3).
Don't Overlook #11, #13, and #14 Seeds
In recent years, the #11 seed has been a popular spot for a Cinderella team. Since 2006, four #11 seeds advanced to the Final Four, including George Mason (2006), VCU (2011), Loyola Chicago (2018), and UCLA (2021).
In 2021, a pair of #13 seeds busted brackets when North Texas and Ohio went on magical runs. In 2018, Marshall and Buffalo pulled off first-round upsets as a #13 seed.
Since the March Madness field expanded to 64 teams in 1985, 31 different #13 seeds pulled off an upset over a #4 seed. Those overlooked #13 seeds have a 31-113 overall record with a 21.5% success rate. Since 2008, the #13 seed pulled off an opening-round upset 13 times.
The #14 seed ambushed a #3 seed on 22 occasions. It happened six times in the last nine tournaments since #14 Harvard was a double-digit underdog and picked off #3 New Mexico in 2013. Abilene Christian was the last #14 seed to prevail back in 2021. In 2015, a pair of #14 seeds busted brackets when Georgia State and UAB both upset #3 seeds.
Live and Die by the Trey
Offenses have opened up in college basketball and many teams rely on 3-point shooting to provide the bulk of their offense. The 3-point shot also allows teams that fall behind early to get back into the game. Upsets often happen in March Madness when smaller schools get hot from beyond the arc and pick off a team from a power conference.
Colgate leads all NCAA Division 1 schools with a 40.7% success rate from 3-point range. Michigan State is third overall at 40.1%, and Utah State is ranked #4 at 39.8%.
Other trey-happy teams to watch include Florida Atlantic, Howard, and UNC Asheville.
UNC Asheville earned a #15 seed this year and was ranked #8 overall in 3-point shooting at 39%. Howard has the #16 seed, but they're an elite 3-point shooting team at 38%. Florida Atlantic is getting a lot of attention as a #9 seed this year because they shoot 38% from downtown and had a couple of games in which they shot the lights out.
Free Throws: Bane of Your Existence
Nothing tilts basketball bettors faster than missed free throws. March Madness games have such a small room for error that missed free throws in crunch time often determine the outcome of games.
Villanova led the country in free-throw shooting at 82.3%. Miami (Florida) is ranked #10 at 78%. Oral Roberts is ranked #14 at 77.6%, and Utah State is ranked #21 at 77%.
Colgate is a weird team because they're the best 3-point shooting squad in the country, yet they struggle from the charity stripe at 65% and are ranked #326 in Division 1.
[ad_2]

Source link