[ad_1]

Posted on: March 27, 2023, 01:08h. 
Last updated on: March 27, 2023, 01:54h.
In a new analysis ranking the top-grossing Las Vegas residencies of the past five years on a per-show basis, the top earner comes as a surprise. In fact, Adele only came in fourth.
The analysis, conducted by online casino PlayStar, identifies Lady Gaga as supreme. The superstar's "Enigma + Jazz & Piano" residency, which played the Park MGM from 2018 to 2022, nabbed her $1.5M per show. It was closely followed by Bruno Mars' Park MGM residency ($1.3M per show) and JLo's Planet Hollywood residency ($850k per show). Adele came in next, at an estimated $690K per show for her 'Weekends with Adele' residency at Caesars Palace.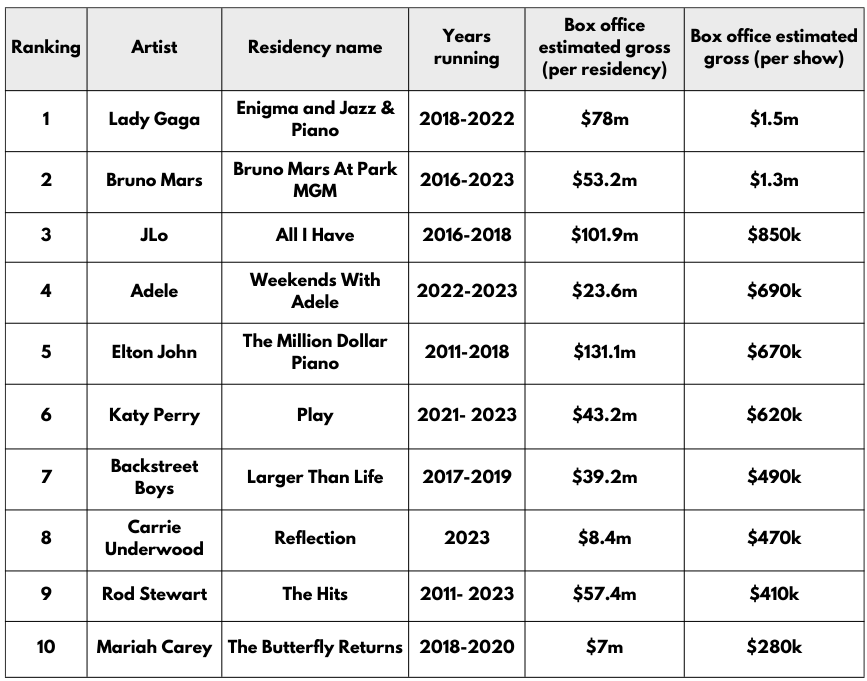 If this analysis were to be conducted at the end of 2023, at which time Adele is scheduled to have completed 34 more concerts at a rumored $1.2M payday each, the British superstar would place third in this ranking, at $957K per show.
Honorable mention goes to the hardest workers on the list. Grinding the most during their residencies were JLo, who logged 120 shows over two years, and Elton John, who performed 197 shows over eight years. Compare this to Lady Gaga's 52 shows over five years, and Bruno Mars' 41 shows over eight.
Different Variables Produce Different Rankings
If this ranking were for total estimated gross per residency, Elton John would own the top spot handily, having grossed $131.1M for his "The Million Dollar Piano" residency from 2011 to 2018 at Caesars Palace, followed by JLo's residency at $101.9M, and Lady Gaga's at $78M. The total "Weekends With Adele" gross (assuming the rumored $1.2M/per show is correct) would place it fourth at $65M.
On a per-year basis, the revenue rankings would show J-Lo out front at $34M per year over three years. Elton John would follow with $16.2M per year over eight years, and Lady Gaga would rank third at $15.6M over five years. While Adele would finish sixth in this ranking at only $11.6M, her residency returns for another six months this year from June through November. If, again, her rumored $1.2M-per-show figure is correct, that places Adele on track to unseat Elton in second place in this ranking with $32.5M per year — more than double Gaga's gross per year.
All–Time, Top-Grossing Vegas Residencies
In this were a ranking of the all-time total generated from Vegas residencies, Celine Dion would lead the pack. She earned $385.1M for "A New Day," which ran at Caesars Palace from 2003 to 2007, and another $296.2M for "Celine," which ran there from 2011 to 2019, for a total gross of $681.3M. In her wake would tread Elton John, whose "The Red Piano" residency, which ran at Caesars Place from 2004 to 2009, would add $169.6M to his earnings for a total of $300.7M. (That's still far less than half of Dion's total.)
Britney Spears' "Piece of Me" residency, which ran from 2013 to 2017 at Planet Hollywood, would rank third all-time with a total gross of $137M.
PlayStar estimated its box-office figures using various published reports, ticket prices, venue capacity, and number of shows during the tour.
[ad_2]

Source link