[ad_1]

Posted on: March 2, 2023, 02:30h. 
Last updated on: March 2, 2023, 03:00h.
Golden Entertainment (NASDAQ: GDEN) is pledging to spend at least $30 million this year sprucing up the Strat Las Vegas ahead of November's F1 race and the 2024 Super Bowl, and one analyst believes the company could eventually sell its distributed gaming business.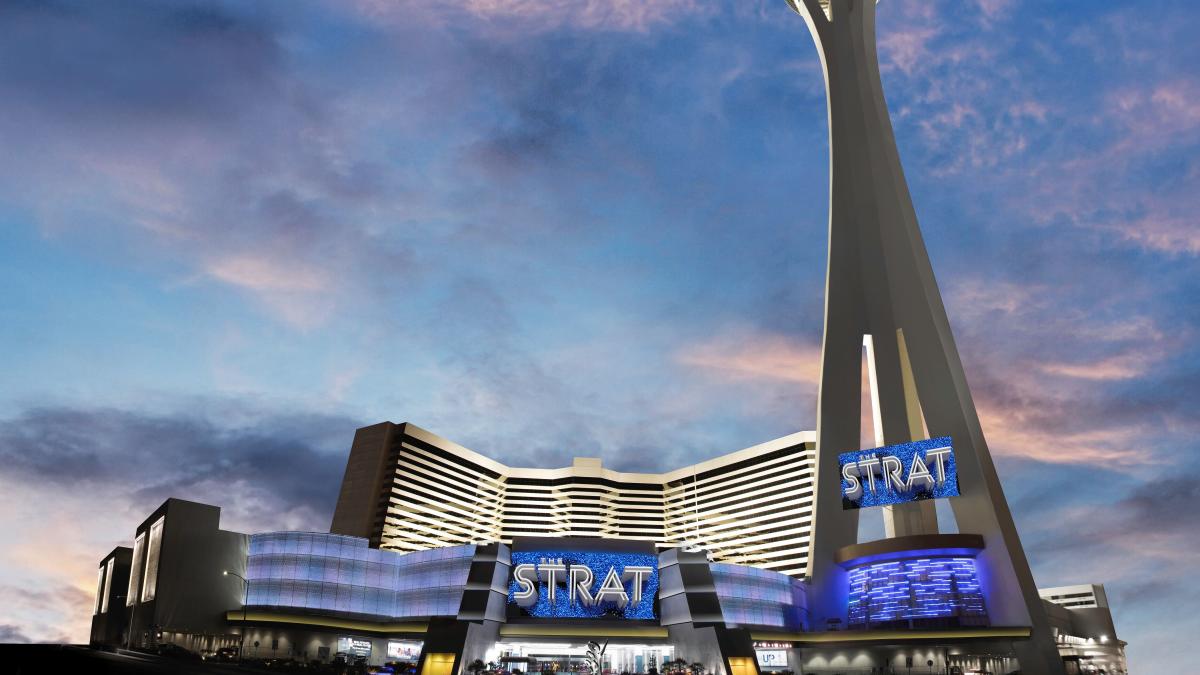 Last year, Golden's capital expenditures reached $50 million, about 20% of which it allocated to the Strat, the operator's marquee Sin City property. The company wants to further enhance the venue to ready it for elevated F1 and Super Bowl demand, and make it more competitive in landing more convention and meeting business.
We are currently renovating [an] additional 537 rooms, hallway corridors in our pool areas, which should be completed in the first half of the year at expected cost of approximately $30 million in 2023," said CFO Charles Protell on Golden's Wednesday earnings conference call. "This will bring the total rooms and suites that we have renovated to 1,200 out of 2,400 rooms at the property, with most of the others having been updated prior to our acquisition of The Strat in 2017."
Golden added that its $260 million sale of the Rocky Gap Casino Resort in Flinstone, Md., announced last August, should be completed in the second quarter.
Golden Could Mull Sale of Distributed Gaming Unit
In a press release detailing its fourth-quarter earnings, Golden announced that its Nevada taverns business, which includes PT's Pubs, will be its own segment while the company's distributed gaming arm will remain as its own reporting segment.
B.Riley analyst David Bain said in a note to clients on Thursday the move could be a sign Golden may eventually consider a sale of the distributed gaming unit, which has operations in Montana and Nevada.
"We believe GDEN's new segmentation of distributed gaming and earnings call Q&A responses suggest an openness to divesting the business segment. While a healthy, resilient category for GDEN, we believe management's focus has turned more toward growing its Nevada tavern business and positioning The Strat for forward growth," wrote Bain.
The analyst added that Accel Entertainment (NASDAQ: ACEL) — a pure-play distributed gaming firm — signaled a willingness to participate in industry consolidation this year. He notes that due to scarcity, distributed gaming assets could be desirable to buyers, and Golden's related unit could fetch $300 million or more if put out to bid.
"To be clear, we do not have any specific knowledge GDEN is in active discussions to divest its distributed segment – or even if it truly desires to be. However, a third-party distributed divestment could unlock a higher stock multiple for a simple, strong pure-play NV story with significant balance sheet flexibility," according to Bain.
Golden Entertainment Capital Return Plans
In the fourth quarter, Golden repurchased nearly 329K of its shares, bringing the 2022 total to north of 1.1 million. The operator indicated that proceeds from the Rocky Gap sale could be directed, in part, to shareholder rewards.
Following the sale of Rocky Gap, we believe GDEN will pay down an additional $150M or so of its term loan. With the remaining $70M of after-tax proceeds, we anticipate additional share repurchases and initiating a recurring or special dividend (which we would view as likely an 'annual special dividend')," concluded Bain.
Golden is also expected to make a decision this year on the fate of the currently shuttered Colorado Belle in Laughlin, Nev. A potential sale of that venue would generate more cash for the company's debt reduction efforts, and possibly support a more extensive return of capital to investors.
[ad_2]

Source link