[ad_1]

Posted on: February 13, 2023, 01:00h. 
Last updated on: February 13, 2023, 03:57h.
FanDuel's big bet on Sunday's Super Bowl was a major bust, many sports bettors said after the sportsbook's prime-time commercial aired.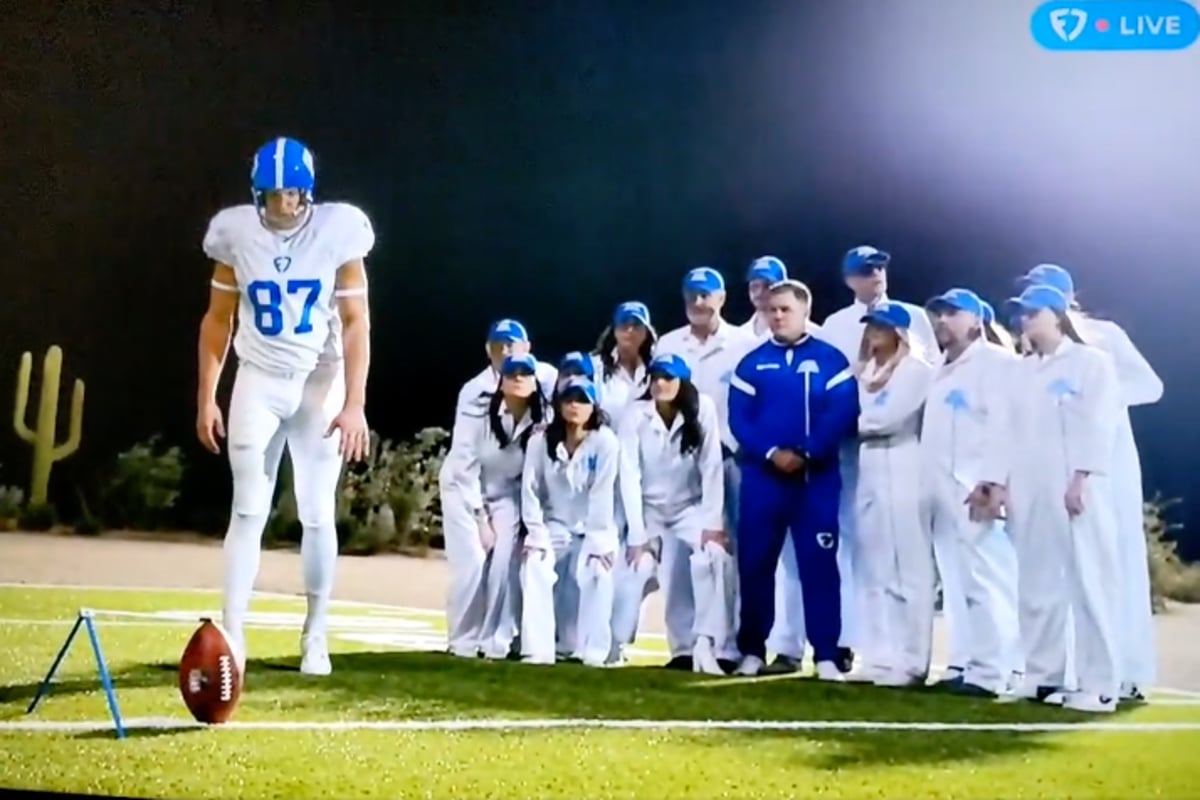 FanDuel announced before Super Bowl LVII that it bought a 30-second commercial for $7 million. The sportsbook and iGaming operator hyped its marketing ploy by telling its patrons that former tight end and future NFL Pro Football Hall of Famer Rob Gronkowski would be attempting a 25-yard field goal live during a commercial break.
FanDuel advertised that if Gronk's kick were good, the sportsbook would pay out $10 million in free bets. FanDuel customers who made a qualifying wager on the platform would receive a share of the prize pool.
During Sunday's broadcast on Fox, Gronk's kick missed wide left. FanDuel said it will still issue the $10 million in bets anyway.
Bettors still weren't pleased, as many questioned whether Gronkowski's kick was actually live. Others pondered if the entire event was staged, with some questioning the legitimacy of the kick.
The aired kick appeared to be good despite the voice-over announcer saying it missed left. The kick FanDuel shared to its social media channels more clearly showed that the kick indeed was wide left.
Rob Gronkowski's field goal in a live Super Bowl ad is … NO GOOD! pic.twitter.com/B26d1yhqSr

— Mark J. Burns (@markjburns88) February 13, 2023
.@RobGronkowski may have missed the #KickOfDestiny….

BUT YOU STILL WIN: we're still paying out the $10,000,000 in Bonus Bets! pic.twitter.com/6z4b0EdNNI

— FanDuel (@FanDuel) February 13, 2023
FanDuel Criticism
FanDuel's Super Bowl commercial aired during the third quarter. Dubbed "the first-ever live Super Bowl commercial," the spot seemed heavily produced, and its "live" claim was heavily questioned.
Taped, not live. Fixed, just like the NFL," commented one of FanDuel's followers on Twitter.
"Fully thought this was going to be live on the field. What did I just watch?" asked another. "That was clearly not live. It was recorded and staged," said someone else.
Ridiculously fake. Boo, FanDuel," another Twitter comment read.
Twitter user Daniel Kahn said FanDuel shouldn't have paid out the free credits since Gronkowski's kick didn't appear good. Kahn opined that losing is part of sports betting.
"I appreciate still getting the bonus bets, but FanDuel, you seriously need to stick to your word," Kahn tweeted. "You said if he makes it the bonus bets are awarded. That's how sports betting works. You win some and lose some. No one should be getting anything."
Lackluster Commercials
The $7 million price for a 30-second commercial was a record rate for the Super Bowl. But despite the high price tag, the commercials were largely ho-hum, with few lasting, memorable spots.
For more than a decade, Yahoo! Sports has reviewed every Super Bowl commercial. And for the FanDuel spot, the media platform gave the sportsbook a "D" grade.
"Well, that was disappointing. After weeks of buildup, Rob Gronkowski attempted a field goal 'live' … and missed? A whole lot of ways they could have 'proven' it was live, but nope. Underwhelming," Yahoo! Sports concluded.
DraftKings' Super Bowl commercial didn't fare much better. DraftKings' spot starring Kevin Hart received a "C."
FanDuel and DraftKings were the only two sports betting advertisers during this year's Super Bowl. During the previous Super Bowl, DraftKings and Caesars Sportsbook were the industry's lone Super Bowl advertisers.


[ad_2]

Source link