[ad_1]

Posted on: March 17, 2023, 01:29h. 
Last updated on: March 17, 2023, 03:03h.
FanDuel has told Casino.org that it didn't make most of the parlay wagers an Illinois lobbyist and gaming industry analyst played as part of an experiment he recently conducted.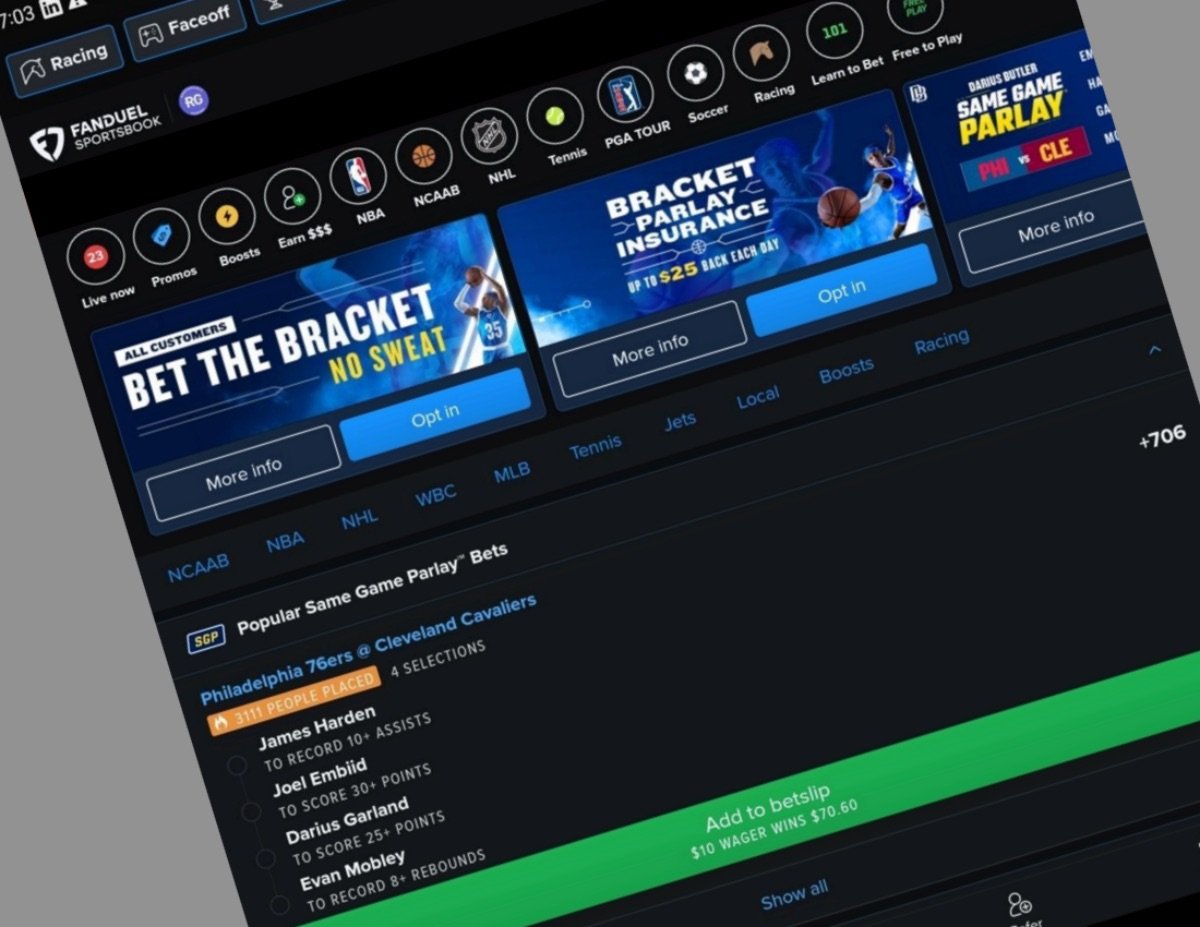 Over the last few weeks, Steve Brubaker played 50 same-game parlays featured on the front page of FanDuel's wagering app. Of those 50, $1 wagers, he won just once and lost more than $37. After that, he played 50, $1 lottery scratch-off tickets. On those, he won eight times – including a $300 winner – but the other seven winners were worth $22.
Same-game parlays, as the name implies, are a series of wagers connected to one event. They can include outcomes related to either team or players from either team, such as two or more players scoring a certain amount of points in the contest. As with all parlays, each leg has to be successful in order for the bet to win.
Brubaker told Casino.org he decided to check out what FanDuel was doing after reading comments from the operator regarding the revenue it makes off its front page. He figured they likely weren't good bets, but even he thought he'd do better than his 1-for-50 run.
With a couple of exceptions, Brubaker's wagers came from the top offering on a home page section. Others were parlays FanDuel promoted on a rotating series of banners on the top of its home screen.
He posted his results on Twitter daily and tagged FanDuel in his tweets, but he said he never heard from them once. Among the primary concerns he raised during his nearly two-month experiment was FanDuel offering premade parlays and not resetting the counter showing the number of people who played the wager as odds or legs changed.
Day 48 @FDSportsbook pregame SGP test. FAILED. 1 for 48!!!! See you tomorrow. pic.twitter.com/P4ngvU7G5M

— Steve Brubaker (@SteveBrubaker) March 11, 2023
How FanDuel Promotes Parlays
There's no debate that FanDuel and other operators promote parlays, same-game or otherwise, and that includes placing them in high-profile spots on their apps.
All operators have seen growth in that segment of the sports betting market. During a presentation to investors last November, FanDuel noted that more than 60% of the bets made on its platform are parlays, and thanks in part to more player production markets being offered, FanDuel bettors are playing parlays with more legs.
From FanDuel's investor day, here is what Conor Farren, Head of Trading, Risk, and Modeling, had to say about how the sausage gets made….

Video link below (time mark) 1:17:15 and transcript snippets with personal highlights… slides in thread below.https://t.co/FyNrQihRlT pic.twitter.com/tGR0JlBacl

— Alfonso Straffon 🇨🇷🇺🇸🇲🇽 (@astraffon) November 19, 2022
In response to Brubaker's work, a FanDuel representative told Casino.org that the section where Brubaker selected most of his wagers highlights popular same-game parlays made by bettors. In other words, they weren't created by anyone employed by the sportsbook.
FanDuel's sportsbook staff looks across the sports offered on the company's app and finds the same-game parlays that have been bet the most. Those are displayed on the front page, with the count showing the number of bettors who have wagered on that exact parlay regardless of the odds.
There are also a couple of contingencies. FanDuel shows parlays that have odds no higher than 20-1, and once another parlay receives a higher number of wagers, that will become the top parlay listed at the top of the section. The trading team may remove the bet from the front page if the liability reaches a certain threshold. An individual, though, could still place that wager by going to the specific game and creating it themselves.
Brubaker provided a list of his bets made, with the odds he received. On six of them, his odds were above 20-1, ranging from +2017 to +2454. The parlays Brubaker placed from January 20 through March 13 had average odds of +1087, meaning a $1 winning bet would have netted him $10.87.
Those odds have an implied probability of 8.4%, or more than four times Brubaker's win rate.
While the FanDuel rep didn't know the exact odds of Brubaker's bets, they said he may have just encountered a run of bad luck during the time he placed his bets.
FanDuel does create some same-game and other parlay wagers. Those are typically given a title or are based on a theme. The representative said top trading executives urge their content teams to create wagers they would bet on a high-profile game.
FanDuel traders cannot make bets through the company's platform.
Brubaker Wants Changes
Brubaker told Casino.org that he has no problem with bettors choosing their parlay selections. Still, if FanDuel promotes some premade wagers, regardless of how they were created, the counter showing the number of people who have placed that wager creates an inducement to make that bet.
He also would like to see the odds posted for each leg of the parlay. He said that would show bettors if there's a particular selection within the wager that has substantially higher odds than the other legs.
Odds are irrelevant if the SGPs are made or selected to lose," he said.
He also wants regulators to study data and see if parlays that are promoted on the front page have a significantly different win rate than parlays personally created by bettors.
Brubaker ended his experiment this past week and is now focusing on his day job. He noted that the work he did on this experiment was more time-consuming than some may realize, but still, he prides himself on exposing what he thinks are bad practices in the industry.
"I'm always going to look for something that doesn't feel right," he said.


[ad_2]

Source link