[ad_1]

Posted on: February 6, 2023, 12:20h. 
Last updated on: February 6, 2023, 01:37h.
DraftKings released its Super Bowl LVII commercial early ahead of this Sunday's big game between the Philadelphia Eagles and Kansas City Chiefs. For the third year in a row, the sportsbook is ponying up millions of dollars to run a 30-second advertisement during the most-watched sporting event in the US.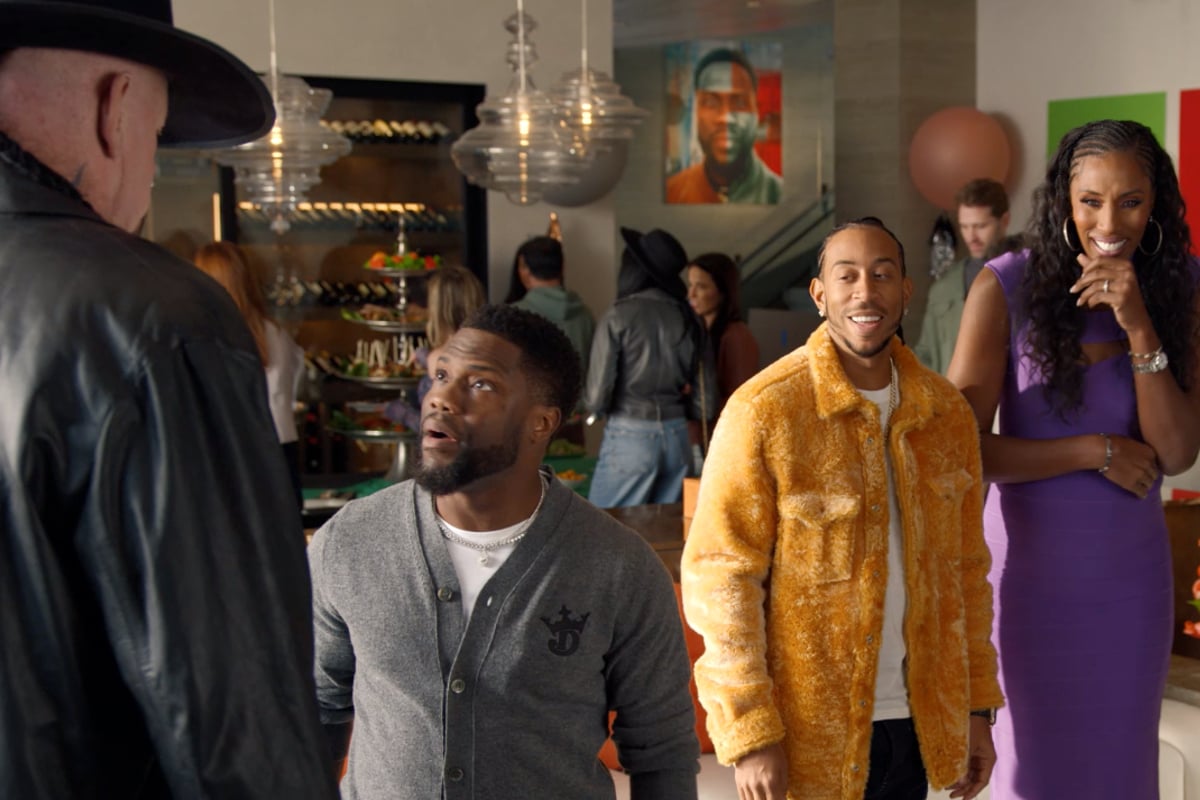 DraftKings tapped comedian Kevin Hart and his HartBeat Productions to develop and produce the Super Bowl spot. Hart brought on numerous friends for the high-profile marketing ploy. Notable celebrities appearing in the advertisement include skateboard legend Tony Hawk, NFL Hall of Famer Emmitt Smith, and NBA legend Julius "Dr. J" Erving.
DraftKings' 2023 Super Bowl ad is titled "Kevin's Bet." In the commercial, Hart is hosting a Super Bowl party, but isn't sure how he'll bet on the big game. The comedian visits with his guests in a series of plays on names to determine his wager.
Kevin says his pals Smith and David "Big Papi" Ortiz are "both ludicrous" before the rapper by the name Ludacris appears. Luda then whispers that Kevin is "taking the under" before former WWF/WWE wrestler The Undertaker appears.
Hart then says he's watching everyone "like a Hawk" before the commercial pans to Tony Hawk trying to get past security.
The overall message is that DraftKings customers receive a free Super Bowl bet. The promo varies by state, with the sportsbook telling players to visit the online sportsbook to check out their personalized incentive.
To watch the DraftKings/Hart Super Bowl commercial, click here.
Super Bowl Betting
The price of a 30-second Super Bowl commercial this year is a staggering $7 million — a record price that's $500K more than last year's big game.
DraftKings has grown accustomed to paying the premium price for a Super Bowl ad slot. The interactive gaming giant has also partnered with beer behemoth Molson Coors for the alcoholic beverage company's Super Bowl promo. Molson Coors is encouraging its followers to try and predict the company's Super Bowl commercial through a free-to-play promo via DraftKings.
DraftKings has become a Super Bowl commercial staple. Caesars Sportsbook ran a Super Bowl ad last year, but isn't currently among the list of big game advertisers.
FanDuel is joining the Super Bowl ranks this year with a $10 million promotional campaign. FanDuel announced last month that former tight end Rob Gronkowski will attempt a field goal live during the big game. If the kick is good, FanDuel will hand out $10 million in free bets to customers.
Massive Audience
GeoComply, an online security services provider that performs geolocation checks on sports bettors for online sportsbooks, reported Monday that it facilitated more than 550 million geolocation checks during the NFL playoffs through the conference championships. That's 50% higher than a year ago.
GeoComply is forecasting that Sunday's Super Bowl will be the most-bet Super Bowl ever. More than six in 10 US consumers (61%) are expected to tune in to the game. That's according to Numerator, a data and tech research firm.
Numerator added that its recent survey of US adults found that the Super Bowl's commercials are a bigger draw than the halftime show. And those viewers are highly coveted, as Numerator concluded the average NFL watcher is likelier to be older with higher incomes than the average consumer.
[ad_2]

Source link