[ad_1]

Posted on: March 10, 2023, 09:40h. 
Last updated on: March 10, 2023, 09:57h.
Atlantic City casino table game dealers who have been dealt bad hands when it comes to their personal health believe the toxic air they regularly breathe is at least partially culpable for their diagnoses.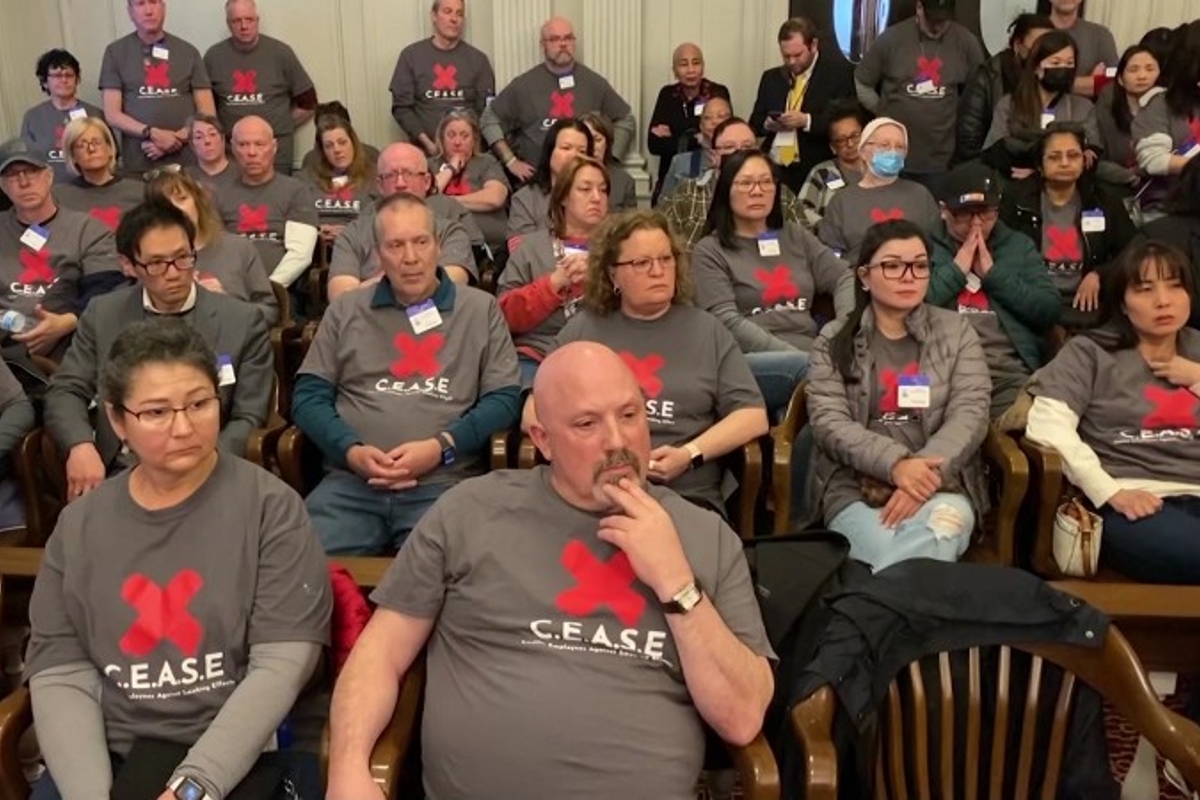 Smoking inside casinos in Atlantic City remains permitted on up to 25% of the floor space. Each casino can designate a smoking section, but state law doesn't require that those areas be physically isolated from the nonsmoking parts.
Though Atlantic City casinos have state-of-the-art air filtration systems, anti-smoking advocates say employee health remains in danger because of the cigarette allowance. Two identical pieces of legislation — Senate Bill 264 and Assembly Bill 2151 — seek to close the casino smoking loophole created through New Jersey's 2006 indoor smoking law.
The Assembly Health Committee and Assembly Tourism, Gaming, and the Arts Committee held a joint discussion Thursday regarding the ongoing permittance of casino smoking. Casino Employees Against Smoking Effects (CEASE), the grassroots coalition leading the Atlantic City smoking discussion, brought several casino workers who have been given cancer diagnoses to express the importance of eliminating harmful smoke from casino floors.
Plea Intensifies
CEASE co-leaders Pete Naccarelli, Nicole Vitola, and Lamont White have been the faces of the anti-smoking movement in Atlantic City. Those three individuals have presented the argument to state lawmakers that casino smoking risks employee health.
But at Thursday's casino discussion in the Assembly committees, CEASE asked casino workers with cancer to tell their stories.
While I'm not sure we will ever know the exact cause of my illness, I can't help but wonder if it would have happened if the casinos hadn't forced me to work in second-hand smoke," said Tammy Brady, a Borgata employee who has stage 2 breast cancer.
Tropicana table game dealer Holly Diebler told state lawmakers that she's undergoing chemotherapy for throat cancer.
I don't even know how long I'm going to live. I love my job. I don't want to leave it, but all of my oncologists are telling me this is a life-and-death choice," Diebler stressed.
Diebler didn't say whether she is, or was, personally a smoker. The Mayo Clinic says tobacco use and "exposure to toxic substances at work" are leading causes of throat cancer.
AB2151 and S264 have bipartisan majority support in each legislative chamber, but the Democrat-controlled Legislature is reportedly stalling the smoking ban bills until the 2023 election. Come November, all 120 state lawmakers will be on the ballot.
Time to Act
Though leading Democrats in New Jersey might be mothballing the efforts to outlaw indoor smoking in Atlantic City casinos, some Republicans say time is of the essence.
Assemblyman Don Guardian (R), the former mayor of Atlantic City, said it's long overdue that smoking is moved outside.
I don't want to take away your right to kill yourself by smoking. I do want to take away your right to kill someone else by smoking in a casino," Guardian said during the hearing.
The Casino Association of New Jersey and leaders of the Unite Here Local 54 casino union oppose outlawing casino smoking. Those interests say a tobacco ban would put Atlantic City at a competitive disadvantage with casinos in neighboring Pennsylvania where smoking is allowed on up to 50% of the gaming floors.
Union boss Bob McDevitt said he isn't a fan of cancer but is trying to protect jobs.
[ad_2]

Source link