[ad_1]

Posted on: July 31, 2023, 12:41h. 
Last updated on: July 31, 2023, 12:41h.
The Mega Millions jackpot skirted players during the interstate lottery game's Friday night drawing, which marked the 29th consecutive drawing where a single ticket failed to match the six winning numbers.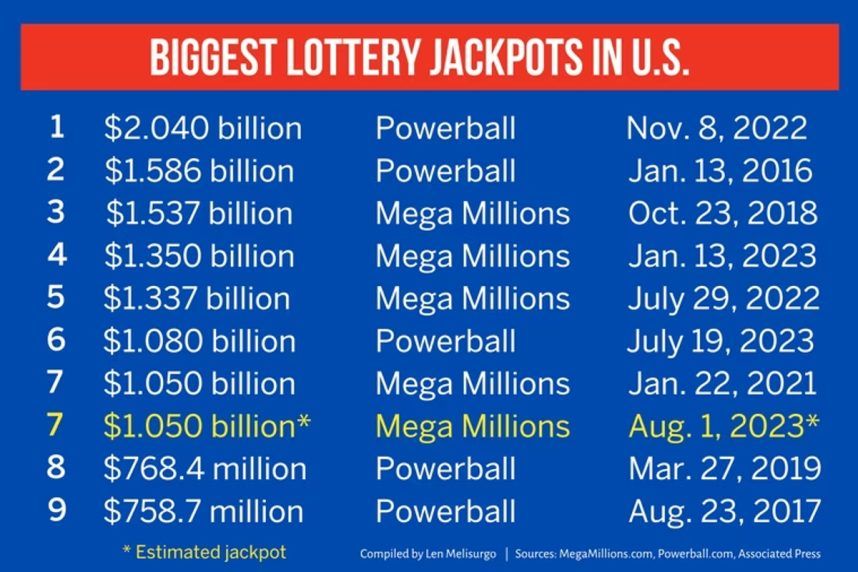 Following the $1.08 billion Powerball jackpot hit during the game's July 19 drawing by a lucky player in Los Angeles, Mega Millions is building up its own historic jackpot. After no player won the top prize, the jackpot rolled over for tomorrow night's drawing.
The estimated jackpot for the Aug. 1 Mega Millions drawing is $1.05 billion, with a one-time cash option of $527.9 million. The odds of a ticket matching the six drawn numbers is one in more than 302.5 million.
Mega Millions is upwards of $1 billion for only the fifth time in the game's history. Mega Millions dates back to 1996 when it debuted as The Big Game.
The current jackpot has been rolling since it was last won by a player in New York on April 18.
Second-Half 2023 Drought
2023 began with a series of life-changing Mega Millions jackpots being won. Six Mega Millions players overcome the dire odds between January through mid-April to claim six jackpots.
This year started with six jackpot winners in less than four months — a number far more typical of a full year and indicative of the truly random nature of lottery drawings," a statement from the Mega Millions consortium read.
2023 began in a big way for Mega Millions, as a ticket sold in Maine won the $1.35 billion jackpot during the game's Jan. 13 drawing. On the very next drawing, a player in New York matched all six numbers for the minimal $20 million jackpot.
Just two drawings later, the Mega Millions jackpot hit again, this time for $33 million by a player in Massachusetts. And then just two drawings after the Jan. 24 hit, the jackpot was won again for a $31 million prize, with another player in Massachusetts claiming the pot.
Another New York player then hit a $483 million Mega Millions jackpot on April 14. And just four days later, the top prize was hit again for $20 million, the winner again buying the ticket in New York.
It's been more than 100 days since Mega Millions was last hit. But during the jackpot-less run, Mega Millions officials say more than 26.4 million tickets won some sort of prize on non-jackpot levels. Those prizes have ranged in value from $2 up to $5 million.
Fifth $1B Jackpot
Powerball has the distinction of being the only lottery in US history to issue an annuitized award of more than $2 billion, but rival Mega Millions is the only lottery game to have offered four jackpots exceeding $1 billion. Those 10-digit jackpots came in 2018, 2021, 2022, and January of this year. The game will soon award a fifth jackpot of more than $1 billion.
The $1.05 billion prize on the line tomorrow night ranks tied for seventh all-time in US lottery history.
Top 10 US Lottery Jackpots
$2.04B — Powerball — Nov. 7, 2022
$1.586B — Powerball — Jan. 13, 2016
$1.537B — Mega Millions — Oct. 23, 2018
$1.35B — Mega Millions — Jan. 13, 2023
$1.337B — Mega Millions — July 29, 2022
$1.08B — Powerball — July 19, 2023
$1.05B — Mega Millions — Jan. 22, 2021
$1.05B — Mega Millions — TBD
$768.4M — Powerball — March 27, 2019
$758.7M — Powerball — Aug. 23, 2017
[ad_2]

Source link